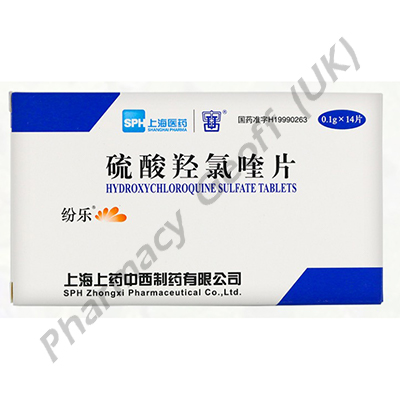 Our price: £22.00
Uses
Hydroxychloroquine Sulfate is prescribed to treat patients with arthritis or other internal inflammatory problems. It is also effective for treating or preventing malaria. This drug is sometimes prescribed to prevent malaria (although it is not effective against chloroquine-resistant malaria). It can also treat malaria attacks. In addition to malaria, this drug may be prescribed as a treatment for auto-immune diseases such as lupus and rheumatoid arthritis. Skin problems occurring as a result of lupus can be reduced, and patients affected by rheumatoid arthritis symptoms such as swelling and pain may be effectively treated with this drug.
Dosage and Administration
Hydroxychloroquine comes in the form of tablets, which are normally taken together with milk or a meal, so as to reduce nausea. The correct dosage varies greatly, and depends on the condition being treated. Adults preventing malaria may be told to take 2 tablets once per week, with the first dose taken 1 to 2 weeks prior to travel, and treatment continuing for 8 weeks after being exposed to malaria. Treating acute malaria attacks may sometimes require 4 tablets taken immediately, with 2 tablets taken 6 to 8 hours after this, and another 2 tablets for each of the next 2 days. The dosage for lupus is different. Doctors often tell their patients to take 1 to 2 tablets once or twice per day. Rheumatoid arthritis may require 1 to 3 tablets taken once per day.
Side effects
If your doctor has prescribed Hydroxychloroquine, you should be aware that there is always the possibility of side effects occurring. Some commonly reported side effects are listed here:
Reduction in appetite
Pain affecting the stomach
Changes in mood
Loss of hair
Itchiness
While you are undergoing treatment with this medication, it is essential that you tell your doctor if any side effects persist or become bothersome. Apart from the above mentioned side effects, this drug may also cause more severe and potentially dangerous side effects to occur. See your doctor straight away if you notice strange behaviour, sensitivity to light, changes in vision, hearing problems, unusual bleeding or any other side effects.
Precautions
If you have ever suffered from changes in vision when taking this drug or other similar drugs (such as chloroquine or primaquine), it is necessary to tell your doctor about this before you start using this medication.
Patients with a history of liver disease, blood disorders, psoriasis, G-6-PD deficiency, dermatitis or those who consume large quantities of alcoholic beverages must consult their doctor before taking this drug to determine whether or not it is suitable for them.
Seek immediate emergency medical attention if you suffer an allergic reaction. Symptoms to watch for, which may be indicative of a reaction, include skin rashes, hives, swelling of the face or limbs, trouble breathing, and trouble swallowing.
Always use Hydroxychloroquine as you have been prescribed by your doctor. Never self-medicate or change your dosage without first consulting your doctor. The correct dosage can vary depending on your health, medical history, and the severity of the condition being treated.
This medication may not be safe for all patients. Before you begin using it always disclose the following to your doctor:
If you are pregnant or breastfeeding.
If you suffer from any allergies.
If you suffer from any other health conditions or illnesses.
If you are using any other medicine (including all non-prescription).
If you are using any supplements, vitamins, or herbal products of any kind.