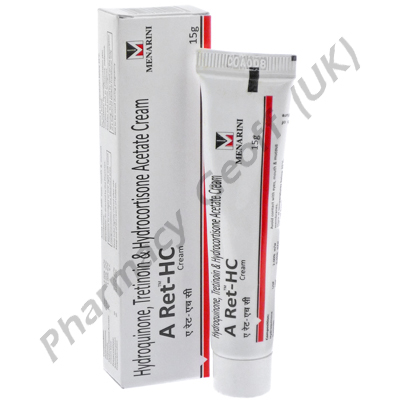 Our price: £6.50
| | | |
| --- | --- | --- |
| Main Use | Active Ingredient | Marketed Name |
| Hyperpigmentation of the skin | Hydroquinone, Tretinoin, Hydrocortisone Acetate | A Ret-HC |
Uses
A Ret-HC (Hydroquinone/Tretinoin/Hydrocortisone Acetate) is used to lighten the skin in people suffering from melasma, age spots, chloasma and other related conditions. Additional therapeutic effects include the treatment of fine wrinkles. A combination of different ingredients is used to make this cream, so as to maximize its benefits. Hydroquinone has been widely used cosmetically as a skin lightening agent due to its well known skin bleaching properties. Its mode of action is reducing the amount of melanin, a type of pigment which contributes to the brown colour of the skin.
This results in a whitening effect. Tretinoin is a retinoid widely used in the treatment of acne. It is a certain form of vitamin A which helps boost the skin's renewal process and decrease the visibility of some wrinkles. In addition to this, it can help increase the amount of pigment removed from the skin due to it increasing the turnover of the keratinocytes, while also enhancing the effects of hydroquinone. Hydrocortisone is a type of anti-inflammatory corticosteroid which helps to lessen inflammation caused by the other 2 ingredients.
Dosage and Administration
A Ret-HC (Hydroquinone/Tretinoin/Hydrocortisone Acetate) cream is for topical use only. Follow the application instructions given by your doctor. Patients treating hyperpigmentation will generally be directed to apply it once per day, usually in the evening. Your doctor or dermatologist will wish to monitor you during treatment, and you will be given advice regarding how long to continue treatment. Never apply too much of it, as this will not lead to enhanced effects, but it may increase the risk of side effects.
Side effects
Use of A Ret-HC (Hydroquinone/Tretinoin/Hydrocortisone Acetate) could cause some side effects, which may include:
Dry skin
Irritation
Erythema
Mild stinging
Slight burning
Make sure that you notify your doctor of all side effects that occur during treatment with this cream. Stop using the cream and consult your doctor immediately if you notice signs of dermatitis or other serious side effects,
Precautions
This cream is for topical application only. It must never be taken by mouth and patients must take care to ensure that it does not come into contact with the mucous membranes or eyes.
You will be advised to stay out of the sun while using this cream. If the skin is exposed to sun, repigmentation of the treated area will occur.
Seek immediate emergency medical attention if you suffer an allergic reaction. Symptoms to watch for, which may be indicative of a reaction, include skin rashes, hives, swelling of the face or limbs, trouble breathing, and trouble swallowing.
Always use A Ret HC (Hydroquinone/Tretinoin/Hydrocortisone Acetate) as you have been prescribed by your doctor. Never self-medicate or change your dosage without first consulting your doctor. The correct dosage can vary depending on your health, medical history, and the severity of the condition being treated.
This medication may not be safe for all patients. Before you begin using it always disclose the following to your doctor:
If you are pregnant or breastfeeding.
If you suffer from any allergies.
If you suffer from any other health conditions or illnesses.
If you are using any other medicine (including all non-prescription).
If you are using any supplements, vitamins, or herbal products of any kind.