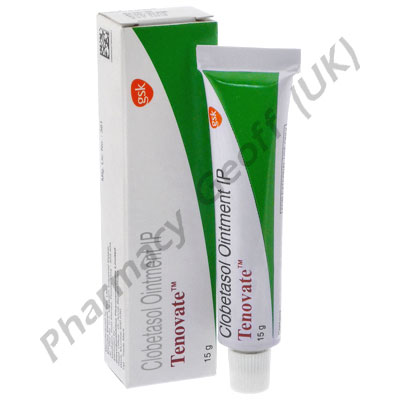 Our price: £3.38
Tenovate Ointment (Clobetasol Propionate) - 0.05% (30g Tube)
Tenovate Ointment contains the active ingredient clobetasol propionate. This is a corticosteroid used to treat eczema, psoriasis and dermatitis and some other skin conditions. It works be decreasing inflammation which helps reduce itchiness and redness of the skin.
Tenovate Ointment Side Effects
Tenovate Ointment usually results in no side effects when taken at the correct dosage and for short-term treatment of skin conditions. If Tenovate is taken for a longer period, or if too much is applied the risk of side effects increases.
Tell your doctor if you notice any of the following while being treated with Tenovate Ointment:
skin changes (stretch marks, colour changes)
hair growth
blood vessels coming closer to the skin and becoming more visible
weight changes
high blood pressure (hypertension) or low blood pressure (hypertension).
Tenovate Ointment Dosage and Administration
Tenovate Ointment comes in a tube containing 30g of ointment. The ointment contains 0.05% Clobetasol Propionate. Tenovate Cream is also available.
Apply Tenovate ointment to the skin as often as prescribed by your doctor. It should be applied to clean, dry skin.
Tenovate Ointment Warnings and Precautions
Before taking Tenovate, tell your doctor if you are pregnant or trying to become pregnant, breast-feeding or planning to breast-feed, any medicines you are currently taking or if you are allergic to any medicines.
Tenovate should not be used for treating rosacea ,acne, skin conditions around the mouth area, skin conditions around the anal or genital areas, viral skin conditions, fungal skin conditions or bacterial skin conditions.
If your condition becomes more pronounced due to use of Tenovate, stop applying the ointment and see your doctor.