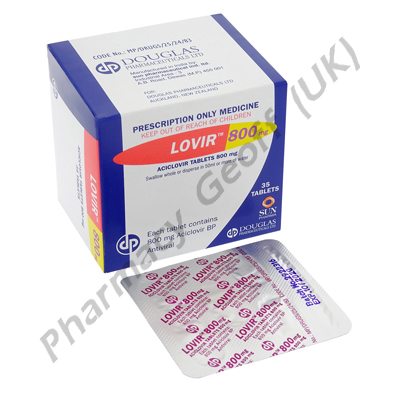 Our price: £25.23
Aciclovir Tablets 800mg
The use of Aciclovir (Lovir 800mg) can help with reducing a virus that is able to grow and spread due to infected cells. It is an antiviral medicine often used for the treatment of herpes. The medicine should be used for a period of 5 to 10 days to help with ensuring the outbreak wonít continue. If you stop the medicine too soon then there could be an additional outbreak in the days that follow which turns out to be very severe.
This medicine is offered in 200mg, 400mg and 800mg tablets. Your doctor will start you out on the lower dose unless you have a severe herpes outbreak. For the treatment of genital herpes, you will also need to have the higher dose. Take this medicine with food to reduce the risk of nausea.
It is very important to drink lots of water when you take Aciclovir tablets to help reduce the possibility of dehydration. Individuals with kidney problems arenít advised to use this product. If you take any other medications you need to disclose them to your doctor to make sure they are a good combination. Some individuals find that this medicine makes them drowsy. Donít drive a vehicle or operate any machinery until you know how it will affect you personally.
Some individuals have an intolerance to sugar. If that is the case, you need to discuss it with your doctor. It may not be good for you to use Aciclovir tablets due to the lactose that they contain. Some common side effects include dryness around the affected area, cracked lips, dry mouth, and insomnia. It you experience any burning sensations, trouble with breathing, swelling of the face, or you feel tingling in your extremities you need to seek immediate medical attention. These can be indictors of an allergic reaction.