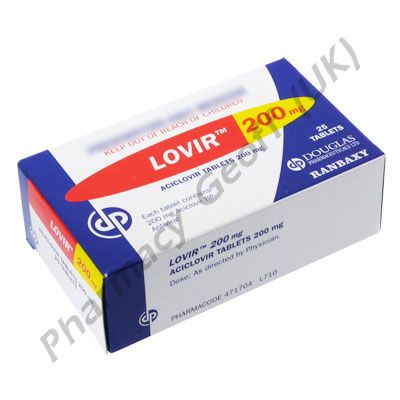 Our price: £6.37
Aciclovir Tablets 200mg
Aciclovir tablets (Lovir 200mg) are an antiviral used to treat a range of infections. Acyclovir can be used to treat both chicken pox and shingles. It can take at least 5 days of use for the situation to be controlled. Most people with chicken pox and shingles are very itchy and they have a hard time sleeping due to it. Aciclovir can help to reduce itching and get the spots to clear up in less time.
The dose of daily Acyclovir tablets can range from 200 mg to 800 mg based on the severity of the situation. For chicken pox the dose is usually less than for shingles. However, your doctor will need to make a full assessment of the situation. Then they can get you started on Aciclovir with the right dose. You need to take it as prescribed for the duration of time your doctor says. Donít stop taking it earlier as you could end up with a recurrence.
Take Aciclovir tablets with food so that you can avoid problems such as nausea or vomiting. Donít skip doses as that can make it harder to get the situation under control. With a high dose, you may have to break it up into 2 or 3 doses per day. Make sure you discuss all of this with the doctor before you go home. Dehydration is a huge factor to be careful with so you need to do all you can to significantly increase the amount of water you drink.
Donít operate machinery or a vehicle with the use of Acyclovir tablets until you know it isnít going to make you drowsy. This is one of the side effects you may experience. You may also experience dry mouth, insomnia, and dry skin around the areas where you had chicken pox or shingles present. Let your doctor know if you are intolerant of sugar as that could prevent you from using Aciclovir.