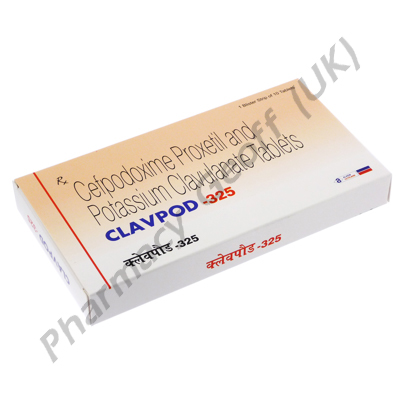 Our price: £11.50
| | |
| --- | --- |
| Brand Name: | Clavpod 325 |
| Generic Name: | Cefpodoxime/Potassium Clavulanate |
| Form: | Tablets |
| Manufacturer: | |
What is Clavpod 325?
Clavpod containing the active ingredients cefpodoxime and potassium clavulanate is an antibiotic that specifically targets bacterial organisms and inhibits their functioning and preventing them from growing or reproducing. It is prescribed to treat a variety of bacterial infections but cannot be used to treat viral infections such as the flu or common cold.
How is Clavpod 325 used?
Clavpod 325 is usually taken orally 2 times per day or as directed by a doctor. The medication should be taken with a meal or snack along with a full glass of water. Contact a doctor for the correct dosage and length of treatment as it will depend on the patient's condition and their response to the therapy. Continue the medication until the prescribed amount is fully completed, even if the symptoms have disappeared, as abruptly stopping the treatment can allow the infection to return and the bacteria to become immune to the antibiotic.
Adverse effects
Clavpod 325 may cause unwanted side effects such as:
Upset stomach
Nausea
Diarrhea
Excess gas
Indigestion
Irritation
Headaches
Throat infection or soreness
Contact a doctor immediately should side effects persist or worsen.
Warnings
If you are using any form of female birth control pill to prevent pregnancy, you are advised to use a barrier-method contraception (i.e. condoms) whilst taking the medication to guard against possible drug interference.
Immediately proceed to your nearest emergency department if you suffer an allergic reaction. Symptoms usually associated with such a reaction include difficulty breathing or swallowing, chest tightness, swelling, skin rashes, and hives.
Clavpod 325 is not always suitable for all patients. Always consult your health care provider prior to using this medication if you are pregnant, breastfeeding, trying to conceive, using any other medication (prescription or non-prescription), using any herbal products or supplements, or if you have any allergies or other health problems.
The correct dosage and prescription commonly depend on the patient and the condition being treated. Do not adjust your dosage without the approval of your health care provider. This product is only for use as prescribed and instructed.