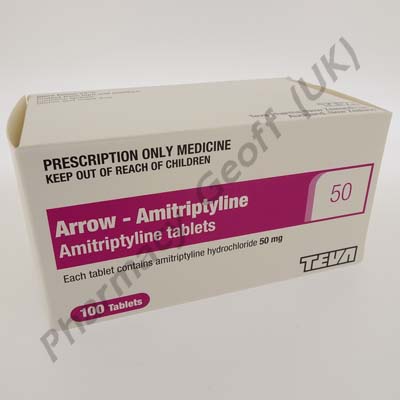 Our price: £13.05
Arrow-Amitriptyline 50mg (Amitriptyline Hydrochloride)
What is Amitriptyline?
Amitriptyline is a type of tricyclic antidepressant used to treat depression. Depression is caused by imbalances of certain chemicals in the brain. Amitriptyline helps regulate these chemicals in the brain which can reduce the symptoms of depression.
What is Amitriptyline Used for?
Amitriptyline is prescribed to people suffering from mild to moderate depression depression or other mood disorders. It can help to correct chemical imbalances in the brain and improve mood in people suffering from thiese forms of mental illness.
Amitriptyline Dosage and Administration
The recommneded dosage of amitriptyline will vary from person to person. IT will depend on the severity of the disorder and other personal factors. Only take the dosage that has been prescribed to you and continue to do so until advised not to.
The maximum daily dose of Amitriptyline is 150mg. Higher doses can be divided into several smaller dosaes throughout the day. It is important with amitriptyline that you do not stop taking it when you feel better.
Amitriptyline can help with depression, but it is not a guaranteed cure. Symptoms may return when you stop taking antidepressants, so it is important to follow your doctors treatment pland and continue to be monitored when stopping taking amitriptyline.
Amitriptyline can be prescribed alone, or in combination with other antidpressants.
Possible Side Effects of Amitriptyline
Amitriptyline may result in some unwanted side effects. Tell your doctor if you feel unwell when taking amitriptyline, or if you show signs of allergy (rash, skin conditions, hives). Also tell your doctor if you experience any of the following and they are bothering you:
Stomach or bowel problems (nausea, vomiting, diarrhoea, constipation)
Drowsiness
Dry mouth or taste change
Increased sweating
Loss of appetite
Shakiness or tremor
Ejaculation disorders or changes in your sex drive
Dizziness
Headache
Weakness
Impaired concentration or thought processes
Trouble sleeping
Vision problems
Weight gain or loss
Irregular heart beats, also called palpitations
Difficulty passing urine or changes in urinary frequency
Increased risk of bone fracture
Precautions and Warnings with Amitriptyline
When taking any antidepressants, you're condition may worsen when you forst take the tablets. It can take a period of 4-6 weeks before you notice a positive change.
Tell your doctor if you are taking any other medicines, especially any MAOIs (Monoamine Oxidase Inhibitors), other antidepressants, guanethidine, sympathomimetics, cimetidine, CNS depressants, disulfiram.