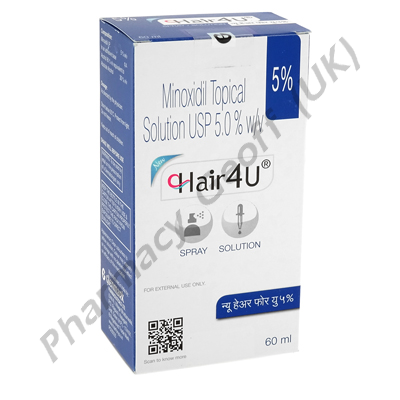 Our price: £18.90
Hair4U 5% (Minoxidil) - 5% (60mL)
Uses
Hair4U 5% (Minoxidil) is prescribed for the treatment of hair loss and baldness in males.
Minoxidil has the effect of vasodilating and stimulating hair growth.
This effect is achieved by improving the microcirculation of the skin and the trophics of hair follicles. Also, the drug stimulates the transition of hair follicles from the resting phase to the growth phase. Minoxidil may reduce the level of 5-alpha-dehydrosterone (contributing to the development of baldness).
Dosage and Administration
Always follow your doctor`s instructions when using Hair4U 5% (Minoxidil) to get the safest and most effective results from treatment. The remedy is applied only on a clean and dry affected area of ​​scalp 2 times a day at 12-hour intervals.
For a better result it is desirable 4 hours after applying Hair4U 5% (Minoxidil) on the scalp, do not wash your head, and also apply the remedy for 2-4 hours before bedtime.
It is not advisable to use a hair dryer to accelerate the drying out of the product, as it reduces its effectiveness.
It is not necessary to apply Hair4U 5% (Minoxidil) more than 2 times a day.
Side effects
The use of Hair4U 5% (Minoxidil) may cause side effects in some patients including:
Hypertrichosis
Rash (including pustular, papular, generalized and macular rash)
Dermatitis (including contact, allergic, atopic and seborrheic dermatitis)
Changes in hair texture
Dry skin
Exfoliation of the skin (including exfoliative rash and exfoliative dermatitis)
Acne
Temporary hair loss
Changes in hair color
Reactions of hypersensitivity (including edema, generalized erythema, generalized itching)
Depressed mood
Headache
Dizziness
Other side effects (systemic) can occur if you use excessive amounts of solution or apply to large areas of the skin (due to systemic absorption).
Contact your doctor immediately if you experience any serious or worrying symptoms.
Precautions
Hair4U 5% (Minoxidil) is for external use only. Avoid contact with eyes and internal use.