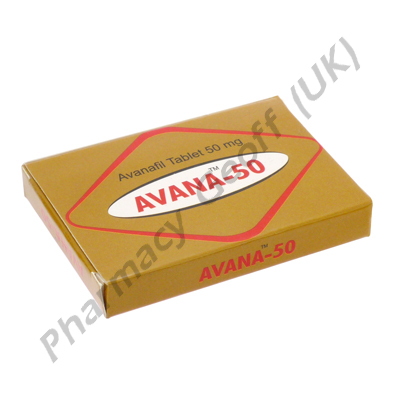 Our price: £9.90
| | |
| --- | --- |
| Brand Name: | Avana-50 |
| Generic Name: | Avanafil |
| Form: | Tablet |
| Manufacturer: | Sunrise Remedies Pvt. Ltd. |
What is Avana?
Avana is a phosphodiesterase type 5 inhibitor (PDE5 inhibitor) which works by relaxing muscles to increase blood flow to certain parts of the body. It blocks PDE5 in smooth muscle cells lining the blood vessels supplying corpus cavernosum to the penis. It is a new drug commonly used to treat erectile dysfunction. It is usually a faster acting medication that also passes through the body at a quicker rate than most erectile dysfunction drugs.
How is Avana used?
Avana is usually taken orally 30 minutes before sexual activity either with or without food. It is recommended to take the lowest amount as possible as prescribed by your doctor, contact your doctor for the correct dosage. Do not take more than 1 dose of the medication per day. The medication is only effective when there is sexual stimulation, an erection will not occur by only taking a tablet. Contact a doctor immediately should your erection last longer than 4 hours as erections lasting longer than 4 hours may cause permanent damage to the penis.
Adverse effects
Patients using Avana may encounter side effects such as:
Headache
Dizziness
Flushing
Cold symptoms
Nasal congestion
Back pain
Contact your doctor immediately should you encounter more severe side effects such as:
Change or loss of vision
Change or loss of hearing
Priapism
Chest or stomach pain
Warnings
Patients should not take the medication in combination with nitrate medication. The combination may lead to a sudden decrease in blood pressure. Taking the medication with grapefruits or grapefruit juice may also cause a potentially dangerous reaction.
Immediately proceed to your nearest emergency department if you suffer an allergic reaction. Symptoms usually associated with such a reaction include difficulty breathing or swallowing, chest tightness, swelling, skin rashes, and hives.
Avana is not always suitable for all patients. Always consult your health care provider prior to using this medication if you are pregnant, breastfeeding, trying to conceive, using any other medication (prescription or non-prescription), using any herbal products or supplements, or if you have any allergies or other health problems.
The correct dosage and prescription commonly depend on the patient and the condition being treated. Do not adjust your dosage without the approval of your health care provider. This product is only for use as prescribed and instructed.