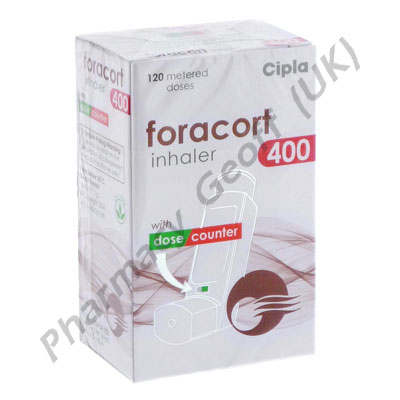 Our price: £14.95
Foracort 400 Inhaler (Budesonide/Formoterol)
What is Foracort 400 Inhaler?
The Foracort 400 Inhaler is a combination of corticosteroid and anti-inflammatory. It can help with opening up the airways in patients with asthma. The two active ingredients are Budesonide and Formoterol.
What is Foracort 400 Inhaler Used for?
This type of inhaler is used for the treatment of asthma. It can be used at the onset of an attack to reduce the asthma attack in terms of duration and severity. The Foracort 400 Inhaler can also be prescribed for those with COPD. It can be hard for them to take part in physical activity due to shortness of breath. This type of device can help them during those times when they struggle to catch their breath.
Foracort Dosage and Administration
This medication is used to help with controlling mild to moderate breathing problems and improving lung function. This inhaler contains a dosage of 400 mcg of Budesonide and 6 mcg of Formoterol.
One or two pumps of the inhaler is a dose. Your doctor will explain to you how much to use and the correct way. The Foracort 400 Inhaler offers 400 pumps so it is long lasting. It is recommended to have an inhaler on you at all times if you have asthma or COPD. This medication should be taken twice per day to help reduce the risk of breathing problems.
Possible Side Effects of Foracort
The most common side effects associated with the use of the Foracort 400 Inhaler are a sore tongue and a sore throat. These symptoms will go away after a few weeks of use. Let your doctor know if they continue. Other side effects can include headache, shaking, and cold like symptoms.
Foracort Precautions and Warnings
Women who are pregnant or breastfeeding need to talk to their doctor about using this medication. Individuals with heart disease arenít a good candidate. Those with thyroid problems or diabetes need to use caution when taking this medicine. Talk to your doctor to weigh the pros and cons of using it if you have such health issues.
Make sure your doctor is fully aware of all the types of medications you use. This includes over the counter products and herbal remedies. Some of them can interact adversely with the use of a Foracort 400 Inhaler.