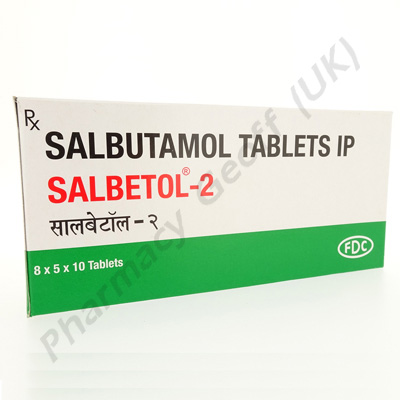 Our price: £12.00
What is Salbutol (Salbuterol)
Salbutol (Salbuterol) is primarily used to treat asthma and chronic obstructive pulmonary disease (COPD). It is a bronchodilator and beta-2 receptor agonist which works by relaxing the respiratory airways, allowing the patient to breathe easier. It is affective in managing shortness of breath and wheezing.
Salbutol (Salbuterol) Dosage and Administration
Strictly follow your physician`s prescription. Never self medicate or alter your dosage by yourself.
Salbutol (Salbuterol) should be swallowed whole without chewing, splitting or dissolving into water. It is usually taken either 3 or 4 times per day. The normal dosage is as follows:
2mg to 4mg for adults
2mg for children from 7 to 12 years old
1mg to 2mg for children from 2 to 6 years old
Salbutol (Salbuterol) Side Effects
Always notify your physician of any side effects you experience, doing so promptly if any persist or worsen. Side effects which have been reported by patients taking Salbutol (Salbuterol) include those below.
Dizziness
Trouble sleeping
Diarrhoea
Nausea
Sweating
Salbutol (Salbuterol) Warnings and Precautions
Seek emergency medical attention if you suspect you are experiencing a hypersensitive or allergic reaction. Possible symptoms can include difficulty swallowing, difficulty breathing, rashes, hives, or chest pains.
Prior to starting using Salbutol (Salbuterol) ensure that your physician is aware if you are pregnant or breastfeeding, have any allergies, have any other illnesses or conditions, take any other medication including non-prescription medication, or if you take any dietary supplements or herbal products.