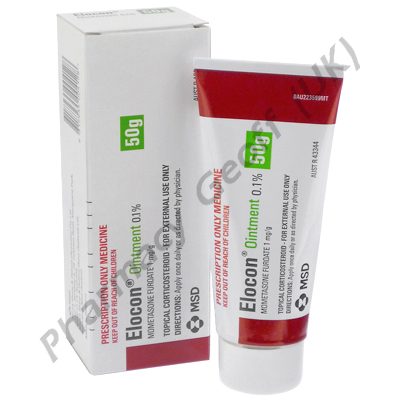 Our price: £11.39
| | |
| --- | --- |
| Brand Name: | Elocon |
| Generic Name: | Mometasone Furoate |
| Form: | Ointment |
| Manufacturer: | MSD |
What is Elocon Ointment?
Elocon Ointment is designed to reduce chemical activity in the body that typically results in problems with swelling, inflammation, or redness. Elocon Ointment is often prescribed to treat psoriasis, eczema, or similar conditions of the skin resulting from allergic reactions. This is one, but not necessarily the only treatment Elocon Ointment is used for. Consult your medical provider for more details.
How is Elocon Ointment used?
As with all medications; only use this product as directed by your medical provider. In addition it is recommended that you cleanse your hands prior to and after utilizing Elocon Ointment. The area of use should be concentrated. Only small amounts should be administered to the treatment region.
You do not want to freeze this product and you want to keep Elocon Ointment from getting moist or overheated. It is best to store it at average room temperature.
Adverse effects
If you display and indications that Elocon Ointment has been skin absorbed or are experiencing any reactions typically found in an allergic reaction like the following seek medical attention immediately:
Facial swelling
Breathing difficulty
Hives
Blurred vision
Changes in your mood
Insomnia
Gaining of weight
Muscle weakness
Overall tired feeling
Some side effects less serious could be:
Mild skin rash
Rash around the mouth
Spider veins
Tingling or numbness
Discoloration of treated area
Blisters
Stretch marks
It is always best to consult your physician before using a new medication.
Warnings
Elocon Ointment is acceptable to skin absorption and can therefore present side effects of a steroid nature throughout the body. For this reason it is imperative that Elocon Ointment only be administered in accordance with doctor's directions. Any prolonged usage of amounts exceeding specific directions can lead to serious health issues.
The skin areas that are being treated should never be covered unless directed by your medical provider. The skin will absorb much more of the Mometasone if the treated area is covered. The product should not be administered to a child without the approval of your medical provider. Treatment on a child allows for enhanced absorption. If while you are using Elocon Ointment you have not seen noticeable condition improvement in two weeks time or if a viral infection of the skin, fungal or bacterial infection appears you will want to call your medical provider.
Before you use Elocon Ointment tell your medical provider if you are:
Suffering from a Mometasone allergy
Inflicted with diabetes (urine could see enhanced levels of glucose)
Pregnant
Breast feeding