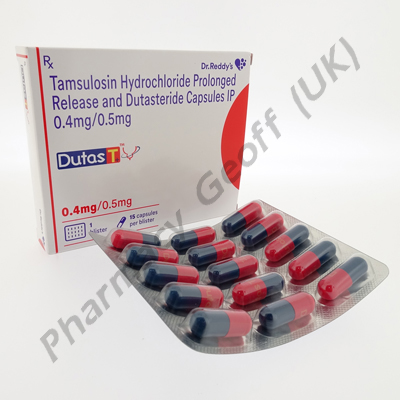 Our price: £11.40
What Is Dutas-T (Dutasteride / Tamsulosin)
Dutas-T (Dutasteride/Tamsulosin) is a combination of 2 separate medicines in one capsule - dutasteride and tamsulosin. This combination is used to treat prostate hyperplasia and hair loss (Male Pattern Baldness). Also, Dutas-T (Dutasteride/Tamsulosin) eliminates the symptoms of prostatic hyperplasia, increases the speed of urination, reduces the risk of acute urinary retention and the need for surgery.
The combination of dutasteride (dual inhibitor of 5-alpha reductase) and tamsulosin (alpha 1-adrenoreceptor blocker) complement each other by the mechanism of action.
Dutasteride Suppresses the activity of type 1 and type 2 ?-reductase isoenzymes, under the action of which testosterone is converted to dihydrotestosterone (DHT) - the main androgen responsible for the hyperplasia of the glandular tissue of the prostate gland.
Tamsulosin Inhibits alpha1a-adrenoreceptors in the smooth muscles of the prostate stroma and the bladder neck. About 75% of alpha1-adrenergic receptors in the prostate gland are receptors of the alpha1a subtype.
Dutas-T Dosage and Administration
Always follow your doctor`s instructions when using Dutas-T (Dutasteride/Tamsulosin) to get the safest and most effective results from treatment. Capsules are taken orally 30 minutes after consuming food at the same time every day. Capsules should be swallowed whole, not opened or chewed, as contact with the contents of the capsule may cause irritation of the oral mucosa and pharynx.
Dutas-T Side Effects
The use of Dutas-T (Dutasteride/Tamsulosin) may cause side effects in some patients including:
dizziness
ejaculation disorder
rash
itching, urticaria
hypertrichosis
depressed state
constipation
diarrhea
vomiting
asthenia
rhinitis
Dutas-T Warnings and Preautions
The use of a combination of dutasteride and tamsulosin is absolutely contraindicated in women and children. .
Other contraindications include hypersensitivity to dutasteride, other 5-alpha reductase inhibitors or tamsulosin, orthostatic hypotension (including a history of), severe liver failure, age up to 18 years. .
Do not stop treatment without consulting a doctor. As a rule, symptoms disappear after 3 months, but for a full effect of treatment it is necessary to continue for about 6 months.