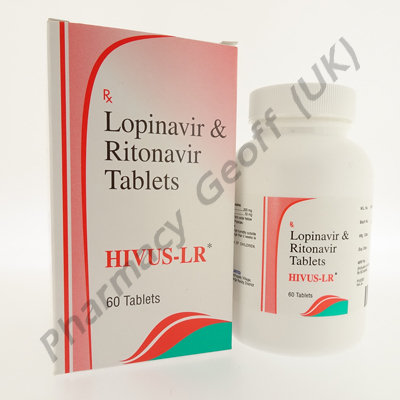 Our price: £41.90
Hivus-LR (Lopinavir/Ritonavir) - 200mg/50mg (60 Tablets)
What is Lopinavir / Ritonavir (Hivus-LR) Used For?
Hivus-LR (also known as Kaletra) is an HIV treatmnent containing a combination of Lopinavir (200mg) and Ritonavir (50mg).
Hivus-LR are a combination tablet with two different antiretroviral drugs (lopinavir and ritonavir). Hivus-LR is used in combination with other antiretroviral medicines to human immunodeficiency virus-1 (HIV-1) infection. It can be taken by adults and children 14 days of age and older.
Lopinavir / Ritonavir (Hivus-LR) Dosage and Administration
Dosage can vary between patients, however a standard dosage of Hivus-LR is 800mg of lopinavir and 200mg of ritonavir per day (4 tablets). This dosage can be taken as a single dosage or divided into two dosages to be taken twice throughout the day. Check with your doctor for your specific dosage as this can change dependant on age, other HIV treatments you are taking. Hivus-LR tablets are swallowed whole with a glass of water. They can be taken with or without food.
Lopinavir / Ritonavir (Hivus-LR) Precautions
Some conditions can cause complications with Lopinavir / Ritonavir (Hivus-LR) Tell your doctor:
if you have had any pancreatic or hepatic conditions (including hepatitis B or hepatitis C),
if you have any heart problems,
if you have low potassium in your blood,
if you have high cholesterol,
if you have hemophilia,
or if you are pregnant or breastfeeding.
Lopinavir / Ritonavir (Hivus-LR) Side Effects
Treatment of HIV infection with lopinavir and ritonavir can lead to serious side effects. These include diabetes or high blood sugar, changes to your body's immune system, increased triglycerides and cholesterol in the blood, changes in body fat levels, increased bleeding, and sever skin rash.
The most commonly reported side effects of Hivus-LR are gastrointestinal problems like nausea, vomiting and diarrhea. If you notice any other side effects while taking Hivus-LR, contact your doctor.