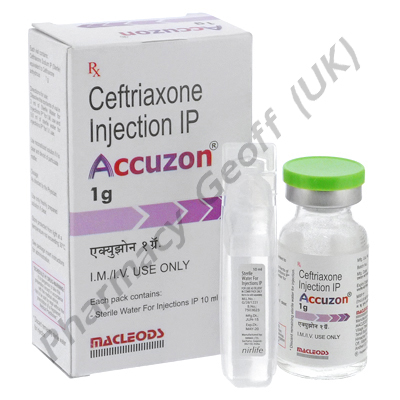 Our price: £4.00
| | | |
| --- | --- | --- |
| Main Use | Active Ingredient | Marketed Name |
| Bacterial infections | Ceftriaxone | Accuzon |
Uses
Accuzon is an injectible form of the antibiotic Ceftriaxone. Ceftriaxone is indicated in the treatment of many different types of bacterial infections. Accuzon stops the spread of the bacteria responsible for the infection.
Dosage and Administration
Accuzon is a injectible medicine. It consists of a powder that will need to be mixed with a compatible solution before being injected intramuscularly (into the muscle) or intravenously (into the vein). To ensure that the injection is performed correctly the person giving the injections should have received clear instructions about how to inject Ceftriaxone.
Ceftriaxone will be prescribed at a dosage based on the severity of the infection and on individual factors.
Side effects
Some pain, redness and swelling near the injection site is a common side effect. It is sometimes recommended to be near medical help for the first injection n case of allergic reaction.
Sometimes Accuzon can cause loss of appetite, nausea, vomiting, diarrhea, or headache.
Severe side effects are very uncommon. Things to be on the lookout for include:
bruising or bleeding more easily than usual
unusally fast or slow heartbeat
seizures
weakness or tiredness
jaundice (yellowing of the eyes or skin)
dark/pink/bloody urine
change in the volume or frequency of urination of urine
painful urination
pain in your back or sides
chest pain
breathing difficulties
mood changes
cognitive changes or general confusion
Precautions
Ceftriaxone is contraindicated in babies with hyperbilirubinemia (high levels of bilirubin) and in prematurely born babies. If a baby is to receive an IV medicine containing calcium, they must not be given ceftriaxone.
Tell your doctor all the medicines you are currently taking including any prescription drugs or over-the-counter medicines as some products can interfere with Ceftriaxone. If you have ever had an allergic reaction to any antibiotics in the past make sure your doctor is aware of this.
If you notice any of the above while taking Accuzon Injection (Ceftriaxone), contact your doctor as soon as possible.
Prolonged use of Ceftriaxone can cause Clostridium difficile-associated diarrhea. If you notice persistent diarrhea, sever addominal pain or cramping, or blood or musus in your stool, contact your doctor.
Oral thrush or vaginal yeast infections have also been associated with prolonged use of Ceftriaxone.