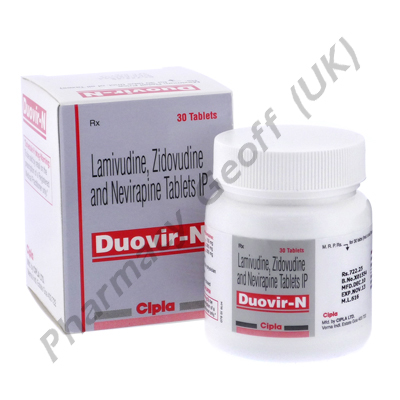 Our price: £19.90
| | | |
| --- | --- | --- |
| Main Use | Active Ingredient | Marketed Name |
| HIV treatment | Lamivudine, Zidovudine, Nevirapine | Duovir N |
Uses
Duovir N (Lamivudine/Zidovudine/Nevirapine) combines 3 potent antiretroviral agents into a single capsule. It works by stopping the replication of the virus and helping to reduce the levels of the HIV virus in the blood. Two of the ingredients in this medicine (zidovudine and lamivudine) are known as nucleoside analogue reverse transcriptase inhibitors (NRTIs), and they can inhibit both HIV-1 and 2. The way in which they work is complex, however both these medicines block the action of a certain enzyme (known as HIV reverse transcriptase).
This enzyme is vital for the virus if it is to replicate its DNA and continue to spread, and blocking it helps to terminate the DNA chain. Nevirapine is in a different class of anti-HIV drugs (non-nucleoside reverse transcriptase inhibitors or NNRTI), and it also exhibits its therapeutic effects by binding to reverse transcriptase. By inhibiting DNA polymerase activities, it can help fight the HIV virus. However, it is normally combined with other antiviral ingredients so as to prevent the development of resistance.
Dosage and Administration
Duovir N (Lamivudine/Zidovudine/Nevirapine) film coated tablets contain 150mg of lamivudine, 300mg of zidovudine and 200mg of nevirapine. Administration is by means of the oral route. However, due to the risk of serious and potentially fatal skin reactions, your doctor will recommend a 2 week period (called a lead in dose) in which the active ingredients are administered separately in accordance with the instructions of your doctor.
If your doctor is satisfied that nevirapine is well tolerated, you may then be told to take this medicine. Doctors generally tell patients to take one tablet twice per day (only after the lead in period). In all cases, you must do exactly as your doctor tells you, and never exceed the recommended dosage.
Side effects
Use of the combined antiretroviral medicine Duovir N (Lamivudine/Zidovudine/Nevirapine) could result in side effects. A list of examples is given here:
Nausea
Sore muscles
Low levels of energy
Difficulty passing stools
Changes to the positioning of fat on your body
Visit your doctor regularly to report side effects. The likelihood of serious side effects is generally considered to be lower than mild reactions. Any patient who suffers from tremors, bladder control problems, fever, sores on the skin, infection or any other serious reactions must immediately seek medical attention.
Precautions
Nevirapine is associated with severe skin reactions. If you notice any signs of this, (such as a burning sensation, soreness on the skin, or blisters), urgently seek medical help.
Due to the fact that this medicine contains a fixed dosage of the active ingredient, your doctor may tell you not to use it if a lower dosage adjustment is needed due to health factors (such as renal function problems).
Seek immediate emergency medical attention if you suffer an allergic reaction. Symptoms to watch for, which may be indicative of a reaction, include skin rashes, hives, swelling of the face or limbs, trouble breathing, and trouble swallowing.
Always use Duovir N (Lamivudine/Zidovudine/Nevirapine) as you have been prescribed by your doctor. Never self-medicate or change your dosage without first consulting your doctor. The correct dosage can vary depending on your health, medical history, and the severity of the condition being treated.
This medication may not be safe for all patients. Before you begin using it always disclose the following to your doctor:
If you are pregnant or breastfeeding.
If you suffer from any allergies.
If you suffer from any other health conditions or illnesses.
If you are using any other medicine (including all non-prescription).
If you are using any supplements, vitamins, or herbal products of any kind.