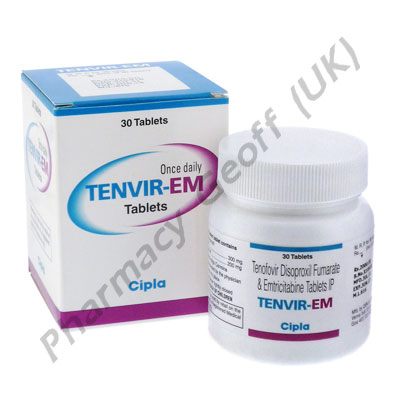 Our price: £57.91
Tenvir-EM (Tenofovir Disoproxil Fumarate 300mg + Emtricitabine 200mg)
Tenvir-EM is a combination therapy used as part of a HIV treatment plan to treat HIV infection or to reduce the risk of contracting a HIV infection. It contains two different HIV medicines - Tenofovir Disoproxil Fumarate and Emtricitabine. Tenvir-EM dose not cure HIV or AIDS.
Tenvir-EM Dosage and Administration
A treatment plan for HIV requires at least three different medicines. Tenvir-EM contains two different medicines so will always need to be taken along with other HIV medicines.
Your doctor will provide a complete treatment plan for you including dosages. Most adults will require one tablet per day of Tenvir-EM.
Tenvir-EM comes packaged as a bottle of 30 tablets. Each tablet contains 300mg of Tenofovir Disoproxil Fumarate and 200mg of Emtricitabine.
The dosage required for treating a HIV infection will be different from the dosage given to prevent HIV infection.
Tenvir-EM Side Effects
Tenvir-EM can cause some very serious side effects that wil require urgent medical attention.
Lactic Acidosis - too much lactic acid in the blood which can be characterized by weakness, excessive tiredness, unusual muscle pain, shortness of breath, increased breathing rate, nausea, vomiting, pain in the stomach or abdomen, cold or blue hands and feet, dizziness or lightheadedness, and/or fast or abnormal heart rates.
Liver Problems - including increase in liver size, tenderness of the liver, yellowing of the skin or eyes, darkening of the urine, lightening of stools, loss of appetite for several days or longer, pain in the stomach or abdomen and nausea.
Worsening of Hepatitis B (HBV) infection - Hepatitis infection can worsen when you stop treatment with Tenvir-EM.
In addition to these serious side effects you may also notice:
nausea
diarrhea
vomiting
wind
dizziness
tiredness
headache
skin rash
breathing problems
muscle pain and weakness
changes in skin colour on the palms of the hands or soles of the feet
sleeping difficulties
abnormal dreams
problems with digestion
If any of these side effects become problematic, or if you feel otherwise unwell while taking Tenvir-EM, contact your doctor.
Tenvir Warnings and Precautions
Tenvir-EM must continue to be taken daily for as long as advised by your doctor. Do not stop taking Tenvir-EM.
Before beginning treatment with Tenvie-EM make sure your doctor is aware if you have hepatitis B, any kidney problems, or any bone abnormalities.
Safety of Tenvir-EM in pregnant or breast-feeding women has not been established. It is not recommended to take Tenvir-EM if you are pregnant or breast-feeding and it is recommended to use contraception when taking Tenvir-EM (Tenofovir Disoproxil Fumarate + Emtricitabine).