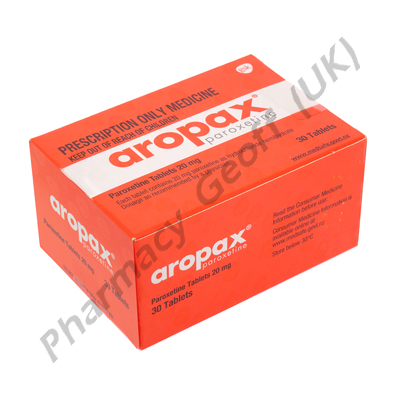 Our price: £71.99
| | |
| --- | --- |
| Brand Name: | Aropax |
| Generic Name: | Paroxetine |
| Form: | Tablets |
| Manufacturer: | Glaxo Smith Kline |
What is Aropax?
Aropax is a selective serotonin reuptake inhibitor (SSRI) that prevents serotonin from being reabsorbed back into the nerve cells and prolonging the mood lightening effect released by serotonin. It can be used to treat major depression, panic disorder, obsessive compulsive disorder, anxiety disorder, post traumatic stress disorder and social anxiety disorder. Some women may even use it to treat premenstrual dysphoric disorder.
How is Aropax used?
Aropax is taken orally once per day usually in the morning. The medication can be taken with or without food, however, it is recommended to be taken with a snack or a meal to avoid nausea or an upset stomach. The tablets should be swallowed whole and not crushed, chewed or split prior to consumption. Dosage depends on the patient's condition and their response to the therapy, consult a doctor for the correct dosage. Patients should take the exact dosage prescribed by a doctor and should not increase or decrease dosage without consulting a doctor. Do not discontinue the treatment without consulting a doctor as abruptly stopping the medication as it may cause severe withdrawal symptoms.
Adverse effects
Patients using Aropax may encounter side effects such as:
Nausea
Headache
Drowsiness
Dizziness
Insomnia
Constipation
Fatigue
Weight gain
Contact a doctor immediately should side effects persist or encounter more severe side effects such as:
Unusual bone pain
Easy bruising
Tenderness or swelling of joints
Blurred vision
Hallucination
Change in sex drive or ability
Mental or mood changes
Warnings
Do not take the medication along with any monoamine oxidase inhibitor medicines (MAOI) as they may interact with the medication.
Immediately proceed to your nearest emergency department if you suffer an allergic reaction. Symptoms usually associated with such a reaction include difficulty breathing or swallowing, chest tightness, swelling, skin rashes, and hives.
Aropax is not always suitable for all patients. Always consult your health care provider prior to using this medication if you are pregnant, breastfeeding, trying to conceive, using any other medication (prescription or non-prescription), using any herbal products or supplements, or if you have any allergies or other health problems.
The correct dosage and prescription commonly depend on the patient and the condition being treated. Do not adjust your dosage without the approval of your health care provider. This product is only for use as prescribed and instructed.