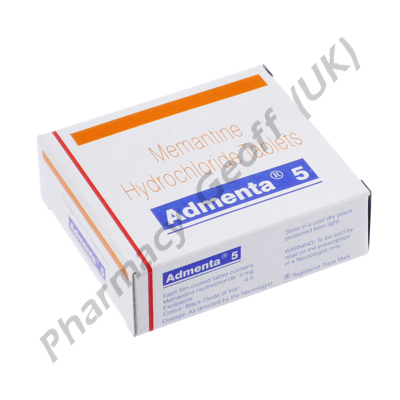 Our price: £3.20
| | | |
| --- | --- | --- |
| Main Use | Active Ingredient | Marketed Name |
| Alzheimer's disease and dementia | Memantine HCL | Admenta |
Uses
Admenta (Memantine HCL) is used to treat moderately severe to severe dementia and confusion when these symptoms are caused by Alzheimer's disease. This medicine is a type of NMDA receptor antagonist. After the patient takes it, it starts to work by acting on the receptors in the brain (called the NMDA receptors) which are important for the memory and learning function. Treatment with this drug can help to improve cognitive function in Alzheimer's patients, and may make it easier for them to perform daily tasks.
Dosage and Administration
Treatment with Admenta (Memantine HCL) tablets requires a prior consultation with a doctor, so that the correct dosage can be prescribed. Adults treating Alzheimer's disease may be told to start out with a dosage of 5mg, taken orally once per day. This may be adjusted by the prescribing doctor. The maintenance dose can vary, and patients will be prescribed a dosage regimen ranging from 5mg taken once per day to 10mg taken twice per day. However, the daily dose will never exceed 20mg per day.
Side effects
Treating dementia with Admenta (Memantine HCL) tablets can sometimes cause side effects, such as:
Vomiting
Fungal infections
Fatigue or drowsiness
An increase in blood pressure
Pain in the back or elsewhere in the body
The prescribing doctor should be informed of any side effects which occur. Immediate medical attention is required if any serious side effects occur, such as pale skin, seizures, fainting, hallucinations or changes in urination patterns. Other side effects which have not been listed here may also occur.
Precautions
If you have ever suffered from diseases affecting the kidneys, seizures or urinary tract infections, you must disclose this to the prescribing doctor before commencing treatment.
Cigarette smoking can decrease the effectiveness of this drug. Tell your doctor if you are a smoker, and seek counselling or treatment to help you quit smoking.
Seek immediate emergency medical attention if you suffer an allergic reaction. Symptoms to watch for, which may be indicative of a reaction, include skin rashes, hives, swelling of the face or limbs, trouble breathing, and trouble swallowing.
Always use Admenta (Memantine HCL) as you have been prescribed by your doctor. Never self-medicate or change your dosage without first consulting your doctor. The correct dosage can vary depending on your health, medical history, and the severity of the condition being treated.
This medication may not be safe for all patients. Before you begin using it always disclose the following to your doctor:
If you are pregnant or breastfeeding.
If you suffer from any allergies.
If you suffer from any other health conditions or illnesses.
If you are using any other medicine (including all non-prescription).
If you are using any supplements, vitamins, or herbal products of any kind.