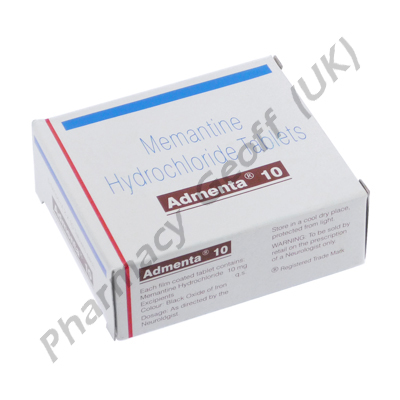 Our price: £5.80
| | | |
| --- | --- | --- |
| Main Use | Active Ingredient | Marketed Name |
| Treatment of Alzheimer's disease | Memantine HCL | Admenta |
Uses
Admenta (Memantine HCL) is used to treat Alzheimer's disease and the confusion, memory problems and difficulty carrying out daily tasks it can cause. This medicine helps to decrease abnormal brain activity, and it can also block the action of a certain natural substance in the brain known as glutamate, believed by many leading medical experts to be linked to Alzheimer's symptoms. Although this medication may make it easier for Alzheimer's patients to function, it will not cure the disease, nor will it stop the disease from progression.
Dosage and Administration
Admenta (Memantine HCL) tablets are administered orally. It is necessary to consult a doctor to determine the proper dosage. Adult patients are usually treated with 1 to 2 doses per day. The tablets may be taken with or without food. It is also possible that the doctor will prescribe a low dosage for the patient at first, which will then be gradually increased. It is essential that all instructions provided by the doctor are followed.
Side effects
Admenta (Memantine HCL) may cause some patients treated with it to experience side effects, such as:
Severe fatigue
Dizzy sensation
Coughing
Body pain
Constipation
It is recommended that all side effects are reported to a doctor. There is a slight risk of serious side effects occurring as a result of treatment with this drug. Consult your doctor or seek medical attention immediately if you notice hallucinations, convulsions, changes in urination, fever, numbness or any other side effects not listed here.
Precautions
If you suffer from or have ever suffered from seizure disorders, asthma, kidney disease, urinary tract infections or have changed your diet recently, it is necessary to tell your doctor before you start taking this medicine.
Patients are advised to limit consumption of alcohol while using this medicine.
Seek immediate emergency medical attention if you suffer an allergic reaction. Symptoms to watch for, which may be indicative of a reaction, include skin rashes, hives, swelling of the face or limbs, trouble breathing, and trouble swallowing.
Always use Admenta (Memantine HCL) as you have been prescribed by your doctor. Never self-medicate or change your dosage without first consulting your doctor. The correct dosage can vary depending on your health, medical history, and the severity of the condition being treated.
This medication may not be safe for all patients. Before you begin using it always disclose the following to your doctor:
If you are pregnant or breastfeeding.
If you suffer from any allergies.
If you suffer from any other health conditions or illnesses.
If you are using any other medicine (including all non-prescription).
If you are using any supplements, vitamins, or herbal products of any kind.