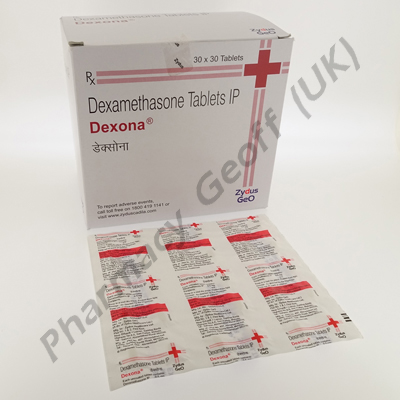 Our price: £32.20
What is Dexona (Dexamethasone) Used For?
Dexona (Dexamethasone) is a hormonal anti-inflammatory drug used to treat a wide range of pathologies, including rheumatoid arthritis, allergic reactions, bronchial asthma, dermatological diseases, ulcerative colitis, rheumatic fever, disseminated red lupus, nephrotic syndrome, malignant diseases.
Dexona (Dexamethasone) Dosage and Administration
Always follow your doctor`s instructions when using Dexona (Dexamethasone) to get the safest and most effective results from treatment. The dosage is prescribed by the doctor individually for each patient. The recommended starting dose for adults is 0.5-9 mg per day. The maintenance dose is usually 0.5-3 mg per day. The daily dose can be divided into 2-4 individual dosages.
Dexona (Dexamethasone) Side Effects
The use of Dexona (Dexamethasone) may cause side effects in some patients including:
Dizziness
Headache
Menstrual disorders
Muscle weakness
Sodium retention
Hypertension
Contact your doctor immediately if you experience any serious or worrying symptoms.
Dexona (Dexamethasone) Warnings and Precautions
Dexona (Dexamethasone) is used only in case of extreme necessity in clildren. Dexamethasone treatment requires careful monitoring of the growth and development of children and adolescents.
The harmful effects on the fetus and the newborn baby can not be excluded. Medicinal product suppresses intrauterine development of a child. Dexamethasone can be prescribed to pregnant women only in rare cases where the expected benefit to the mother exceeds the potential risk to the fetus. Particular caution is recommended for preeclampsia.
In accordance with the general guidelines for treatment during pregnancy with glucocorticoids, the lowest effective dose should be used to control the underlying disease. Children, mothers who received glucocorticoids during pregnancy, should be thoroughly checked for adrenal insufficiency.
A small amount of glucocorticoids penetrates breast milk, so women treated with Dexona (Dexamethasone) are not recommended to breastfeed, especially when using the drug over physiological standards (about 1 mg). This can slow down the growth of the baby and reduce the secretion of endogenous corticosteroids.
Ability to influence the reaction speed while driving or other mechanisms.
Dexona (Dexamethasone) does not affect the ability to drive a car or other mechanical means.