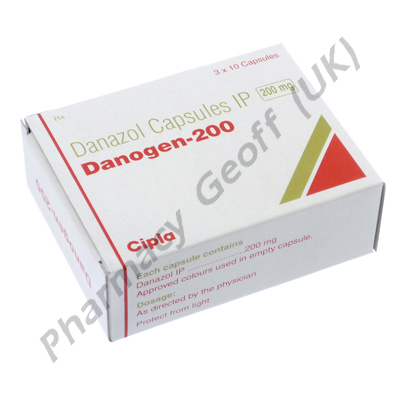 Our price: £11.90
| | |
| --- | --- |
| Brand Name: | Danogen-200 |
| Generic Name: | Danazol |
| Form: | Capsules |
| Manufacturer: | Cipla |
What is Danogen-200?
Danogen is prescribed to treat endometriosis, a condition in which the tissue that normally lines the womb grows on the other organs outside the womb. The active ingredient danazol is a gonadotrophin inhibitor type of medication as well as a synthetic steroid that works by affecting the ovaries and pituitary gland and prevents the release of certain hormones in the body. Some people may also use the drug to treat nodules (lumps), tenderness and severe breast pain associated with fibrocystic breast disease as well as hereditary angioedema.
How is Danogen-200 used?
Danogen is usually taken orally 2 times daily or as directed by a doctor. The medication can be taken with or without food but should be taken the same way each time. Contact a doctor for the correct length of treatment and dosage as it will depend on the patient's condition and their response to the therapy. The capsules should be taken whole and not crushed, split or broken to prevent too much of the drug from being released at one time.
Adverse effects
Danogen may cause unwanted side effects such as:
Flushing
Voice changes
Weight gain
Irregular menstrual cycle
Decrease in breast size
Abnormal hair growth
Acne
Vaginal dryness, discomfort or itching
Contact a doctor immediately should side effects persist or encounter more severe side effects such as:
Decreased sex drive or performance
Mental or mood changes
Persistent headaches
Vision problems
Problems breathing or swallowing
Jaundice
Persistent abdominal pain
Warnings
The medication should usually be started on the first day of your period unless otherwise told by a doctor.
Immediately proceed to your nearest emergency department if you suffer an allergic reaction. Symptoms usually associated with such a reaction include difficulty breathing or swallowing, chest tightness, swelling, skin rashes, and hives.
Danogen-200 is not always suitable for all patients. Always consult your health care provider prior to using this medication if you are pregnant, breastfeeding, trying to conceive, using any other medication (prescription or non-prescription), using any herbal products or supplements, or if you have any allergies or other health problems.
The correct dosage and prescription commonly depend on the patient and the condition being treated. Do not adjust your dosage without the approval of your health care provider. This product is only for use as prescribed and instructed.