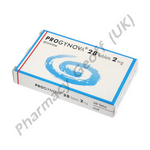 Our price: £15.61
Estradiol Valerate (Progynova) 2mg
Suffering from the effects of menopause can be too much for many women. They want to get back to enjoying life but right now they feel that they are in limbo. The medication called Estradiol Valerate though can help them to get back to enjoying what they would like to do. It is a type of medication that is part of hormone replacement therapy. The reason that women experience various effects during menopause is that their estrogen levels arenít regulated.
The dose of Estradiol Valerate is 2 mg and that is enough to help get the levels of estrogen back on track. As a bonus, this change can also help to significantly reduce the risk of someone suffering from osteoporosis. Studies show that a woman is three times more likely to develop osteoporosis if she has gone through menopause.
This type of medication though isnít to replace during your part. The effects of menopause are reduced when women are at a healthy weight, they eat balanced meals, they exercise, and they make an effort to limit stress. Getting a good night of sleep on a regular basis is also going to help.
Estradiol Valerate has to be taken daily, and it is important to avoid taking more of it per day than the 2 mg. This can cause serious side effects and it wonít offer you any more benefits. Tell your doctor if you have experienced any issues with blood clots or depression. The use of this particular hormone replacement therapy may not be safe for you.
Women that have a family history of breast cancer or how have battled it before may not be right for Estradiol Valerate either. This is because the medication may increase the risk of breast cancer occurring. If you use this medication, make sure you do breast exams and that you get an annual exam by your doctor.