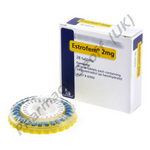 Our price: £23.64
Estrofem
Estrofem Use
Estrofem (estrogen or estradiol) is often utilized as a substitution or supplement relative to the endogenous oestrogen production. The use of Estrofem will reduce or eliminate oestrogen deficiency symptoms. The product is manufactured by Novo Nordisk and is quite common for this type of treatment. Estrofem is also known by its drug name, which is Oestradiol. This product is a hormonal medication and is also used for some ovarian cancer conditions. Your medical provider can determine if this product is right for your individual condition.
Estrofem Precautions
It is essential that a sufficient family and medical history be performed, along with a medical examination, before any therapy using Estrofem is administered. A gynaecological examination should be conducted as well as tests for palpation of the breasts and abdomen as well as blood pressure. Any patients with past oestrogen treatment should be examined even more closely. An examination should be conducted annually to ensure that the product is still safe to use. It is actually quite common that the smallest dose possible that will alleviate these symptoms need to be administered when addressing hormone replacement therapy. It is important to have your medical provider go over this process with you extensively before proceeding with the therapy.
Estrofem Dosage and Usage
Estrofem is an oral medication and is therefore administered through the mouth once a day or a period of 3 weeks and then none are administered for the period of one week and then the process begins again. These are 2mg tablets and typically are prescribed 28 to a box. For cancer treatment Estrofem is often prescribed for up to 3 times daily for a 3 month period.
Estrofem Side Effects
It is not unusual for the breasts to become very tender for the first 8 weeks of treatment while using Estrofem. Some individuals have reported some skin reactions when taking Estrofem but this has been rare in nature. Other users of Estrofem have also complained of headaches, oedema, and nausea have also been reported but are also rare in occurrence. These symptoms are typically transient.
As with all medications it is import to ensure that you are not allergic to Estrofem or any of the ingredients that are used to produce this product. In addition, Estrofem should always be administered in accordance with the doctor's directions. The dose should not be exceeded at any time. If you have any questions or experience any side effects consult your medical provider.