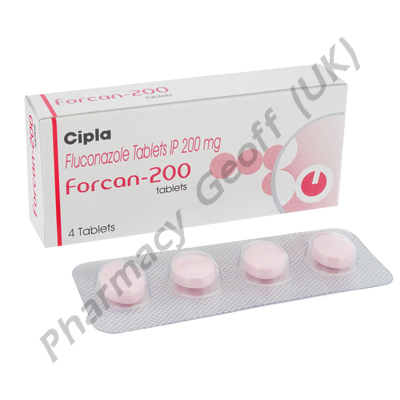 Our price: £11.50
| | | |
| --- | --- | --- |
| Main Use | Active Ingredient | Marketed Name |
| Infections caused by fungi | Fluconazole | Forcan |
Uses
Forcan (Fluconazole) acts inside the body and works by destroying the fungi present in systemic fungal infections. The medicine belongs to a subclass of triazole antifungal medicines and functions as an inhibitor of an enzyme that the fungi need in order to produce ergosterol (referred to as cytochrome P450 enzyme 14a-demethylase). Without ergestol, destruction of the fungal cell membrane occurs, leading to treatment of the infection. It has been used for infections caused by fungi such as Cryptococcus and Candida. Conditions treated include thrush, vaginitis, skin infections, infections of the blood, mouth and elsewhere in the body, as well as other used not listed here.
Dosage and Administration
Forcan (Fluconazole) comes in the form of 200mg tablets which are intended for oral administration. This antifungal medicine is indicated as a treatment for a wide range of various disorders, and the dosage will need to be tailored for each patient`s individual needs. Adults undergoing treatment for systemic candidiasis have sometimes been told to administer 400mg for the first day of treatment, after which a reduced dosage of 200mg per day was recommended. However, this can vary. Your doctor will be responsible for deciding the dosage and duration of treatment.
Side effects
Patients who are using Forcan (Fluconazole) to treat their condition should note that some side effects can occur, including:
Headache
Spinning sensation
Taste sensation changes
Discomfort in the stomach
A strange taste in the mouth
Discuss any reactions you experience with your doctor. Some side effects are serious enough to threaten your health and will require urgent medical care. Examples include skin blisters, bruising, seizures, fever, discoloured urine and other reactions that have not been mentioned here.
Precautions
Ensure that your doctor is aware if you are affected by liver disease, medical conditions related to the kidneys or heart problems before you take this medicine.
Antifungal medicines work by ridding the body of the fungi responsible for symptoms. Therefore, it is necessary to finish the entire course of medicine (unless your doctor tells you to stop). In some cases, the symptoms may get better, however the infection will not be fully treated. Ceasing treatment too early could result in the symptoms returning.
Seek immediate emergency medical attention if you suffer an allergic reaction. Symptoms to watch for, which may be indicative of a reaction, include skin rashes, hives, swelling of the face or limbs, trouble breathing, and trouble swallowing.
Always use Forcan (Fluconazole) as you have been prescribed by your doctor. Never self-medicate or change your dosage without first consulting your doctor. The correct dosage can vary depending on your health, medical history, and the severity of the condition being treated.
This medication may not be safe for all patients. Before you begin using it always disclose the following to your doctor:
If you are pregnant or breastfeeding.
If you suffer from any allergies.
If you suffer from any other health conditions or illnesses.
If you are using any other medicine (including all non-prescription).
If you are using any supplements, vitamins, or herbal products of any kind.