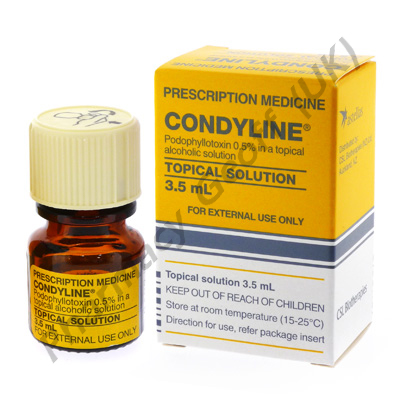 Our price: £69.90
| | |
| --- | --- |
| Brand Name: | Condyline |
| Generic Name: | Podophyllotoxin |
| Form: | Solution |
| Manufacturer: | Astellas Pharma Ltd. |
What is Condyline?
Condyline Topical Solution containing the active ingredient podophyllotoxin belongs to a class of medications called antimitotics. The solution is derived from the roots of the podophyllum plant. The medication works by penetrating the tissue of warts and preventing them from dividing and multiplying. The solution is prescribed to treat genital warts that appear on the outside of the body, replacing the wart cells with new healthy tissue.
How is Condyline used?
Condyline should be applied topically twice per day, once in the morning and once in the evening unless otherwise directed by a doctor. The medication should be applied for 3 days in a row, followed by no treatment for the next 4 days up to a total of 4 treatment weeks in a row. Contact a doctor for the correct dosage as it will depend on the patient's condition and their response to the therapy. Prior to applying the medication, wash the affected area with soap and water thoroughly. Dip the applicator that comes with the product into the solution and apply to the warts your doctor has directed you to treat. Do not apply it to the area surrounding the warts.
Adverse effects
Patients using Condyline may encounter unwanted side effects such as:
Redness, itching, burning, pain or irritation of treated area
Nausea
Vomiting
Unpleasant skin odor
Insomnia
Pain during sex
Contact a doctor immediately should side effects persist or worsen.
Warnings
Immediately proceed to your nearest emergency department if you suffer an allergic reaction. Symptoms usually associated with such a reaction include difficulty breathing or swallowing, chest tightness, swelling, skin rashes, and hives.
Condyline is not always suitable for all patients. Always consult your health care provider prior to using this medication if you are pregnant, breastfeeding, trying to conceive, using any other medication (prescription or non-prescription), using any herbal products or supplements, or if you have any allergies or other health problems.
The correct dosage and prescription commonly depend on the patient and the condition being treated. Do not adjust your dosage without the approval of your health care provider. This product is only for use as prescribed and instructed.