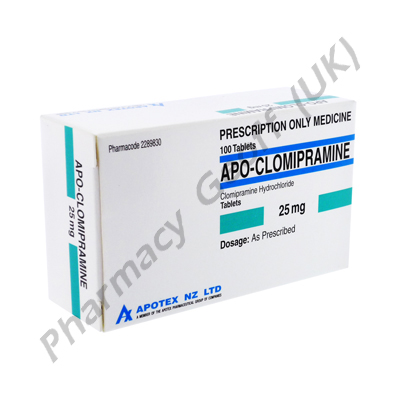 Our price: £16.00
| | | |
| --- | --- | --- |
| Main Use | Active Ingredient | Marketed Name |
| Depression, obsessive compulsive disorder and other conditions | Clomipramine Hydrochloride | Apo-Clomipramine |
Uses
Apo-Clomipramine (Clomipramine Hydrochloride) belongs to a class of medicines referred to as tricyclic antidepressants, and it acts on chemicals in the brain to treat a broad range of conditions, including OCD (obsessive compulsive disorder), depression, narcolepsy, panic disorder and chronic pain. Some patients have also taken it to treat premature ejaculation. It may also be used to treat other medical conditions that have not been listed here.
Dosage and Administration
Apo-Clomipramine (Clomipramine Hydrochloride) comes as tablets, which the patient must administer orally. Adults treating depression, obsessive compulsive disorder and panic disorder are often told to take 25mg (one tablet) just before going to bed. The doctor may adjust this for maintenance treatment, and during the first two weeks of taking the medicine, it is possible that the patient may be told to take 100mg per day. Under no circumstances should patients exceed the dosage that their doctor tells them to take.
Side effects
Taking Apo-Clomipramine (Clomipramine Hydrochloride) may cause side effects, such as:
Insomnia
Restlessness
Stomach upset
A decrease in sexual ability
Noticeable changes in appetite or weight
Patients who notice side effects should inform their doctor. Immediate medical treatment will be required if the patient experiences seizures, pain when urinating, hallucinations, tremors, pain in the eyes or any other serious side effects.
Precautions
Some patients who are treated with this medicine may experience a worsening of depression. If this happens, or if you have any suicidal thoughts, see your doctor immediately.
A dry mouth may occur in patients who take this medicine, which could result in an increased risk of tooth decay. Regular dental examinations may be needed in order to ensure that no dental problems occur.
Seek immediate emergency medical attention if you suffer an allergic reaction. Symptoms to watch for, which may be indicative of a reaction, include skin rashes, hives, swelling of the face or limbs, trouble breathing, and trouble swallowing.
Always use Apo-Clomipramine (Clomipramine Hydrochloride) as you have been prescribed by your doctor. Never self-medicate or change your dosage without first consulting your doctor. The correct dosage can vary depending on your health, medical history, and the severity of the condition being treated.
This medication may not be safe for all patients. Before you begin using it always disclose the following to your doctor:
If you are pregnant or breastfeeding.
If you suffer from any allergies.
If you suffer from any other health conditions or illnesses.
If you are using any other medicine (including all non-prescription).
If you are using any supplements, vitamins, or herbal products of any kind.