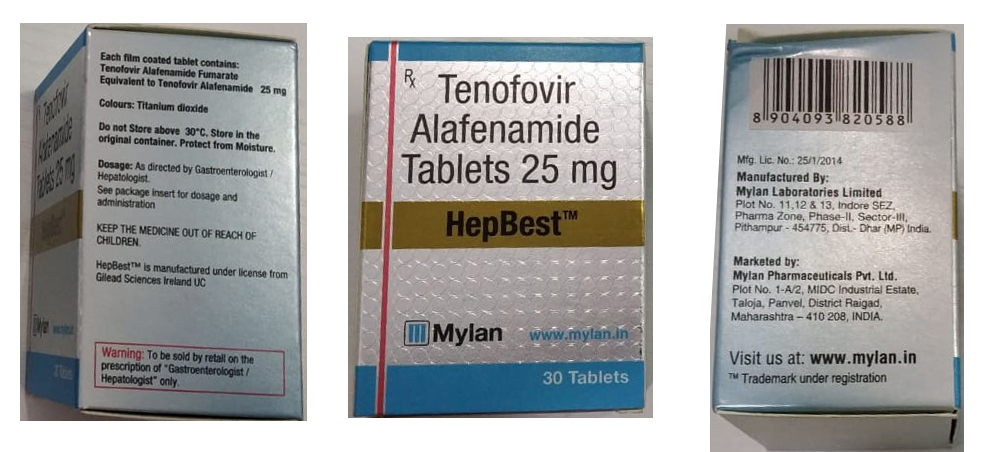 Our price: £35.00
HepBest (Tenofovir Alafenamide)
Uses
HepBest (Tenofovir Alafenamide) is nucleotide reverse transcriptase inhibitor and tenofovir prodrug. It is intended for the treatment of HIV infection and chronic hepatitis B. It is closely associated with the widely used reverse transcriptase inhibitor Tenofovir disoproxil, but HepBest (Tenofovir Alafenamide) has a greater antiviral activity and it is better distributed in lymphoid tissues.
After ingestion, HepBest (Tenofovir Alafenamide) is metabolized to active derivatives - diphosphates or triphosphates, which competitively block the enzyme of the reverse transcriptase virus, inhibit the α-, β- and γ-DNA polymerase of HIV viruses and hepatitis B virus, selectively inhibit the replication of viral DNA and do not affect enzymes the human body. HepBest (Tenofovir Alafenamide) is active in HIV-infected T-lymphocytes and macrophages, and inhibit the early stages of the life cycle of the HIV virus.
Dosage and Administration
The drug is available in the form of tablets containing 25 mg of tenofovir alafenamide as an active ingredient.
The recommended daily dose is 25 mg. Pills should be taken once a day with food. Hepbest is used as a single therapy.
In patients with impaired renal and hepatic function, dose correction is not recommended. It is not recommended therapy with HepBest (Tenofovir Alafenamide) in patient with decompensated cirrhosis of the liver.
Always follow your doctor`s instructions when using HepBest (Tenofovir Alafenamide) to get the safest and most effective results from treatment.
Side Effects
Common side effects of HepBest (Tenofovir Alafenamide) are fatigue, headache, diarrhea, lack of appetite, skin rash, disturbance of cycle sleep – wakefulness, general and muscle weakness, concentration problems, irritability.
Serious side effects of HepBest (Tenofovir Alafenamide) are lactic acidosis, chest pain or discomfort, impaired respiratory activity, slow or irregular heartbeat, unconsciousness, dizziness or fainting, severe fatigue and depression.
If these symptoms occur, seek urgent medical attention.
Precautions
Do not take tenofovir if you are already taking medications containing tenofovir in combination with other drugs.
Do not take tenofovir with other drugs that affect the kidneys; especially adefovir (used in the treatment of hepatitis B).
Call your doctor right away if you notice symptoms: deep and rapid breathing, drowsiness, vomiting, nausea, muscle pain or weakness, numbness or feeling cold in the arms and legs, abdominal pain, rapid or uneven heartbeat, weakness. This may indicate the development of a life-threatening side effect of tenofovir, called lactic acidosis (excess lactic acid in the blood). Lactic acidosis is more common in women, especially if they are overweight or are taking nucleoside antiviral drugs for a long time.
In order to avoid a toxic effect on the kidneys, continuous monitoring of kidney function (blood tests to assess the condition of the kidneys) is recommended for treatment with tenofovir.
Check with your doctor before taking tenofovir if you are pregnant or plan to become pregnant. During treatment with this drug, you and your partner should refrain from pregnancy by using reliable methods of contraception.
Do not use tenofovir if you are breastfeeding.
Tenofovir can cause lipodystrophy (changes in body fat - accumulation or loss of body fat), especially in elderly patients with HIV. Physical examination of redistribution of fat and monitoring of lipids and blood sugar levels is recommended for elderly patients.