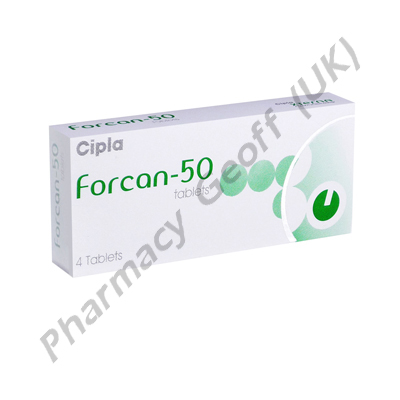 Our price: £4.90
| | | |
| --- | --- | --- |
| Main Use | Active Ingredient | Marketed Name |
| Fungal infections | Fluconazole | Forcan |
Uses
Forcan (Fluconazole) is a triazole antifungal which works for fungal infections by blocking the action of vital enzymes and destroying the fungi. Medical studies have demonstrated its effectiveness in the treatment of infections caused by candida and various other types of fungi. Indications include vaginal infections (thrush), skin infections, the prevention of infection in patients whose immune system is weaker than normal, internal infections caused by fungi, urinary tract infections, pneumonia, cryptococcal meningitis and other conditions that have not been listed here.
The active ingredient in this medicine is said to be synthetic. Its mechanism of action involves selectively inhibiting the cytochrome P450 system (types of enzymes). As a result of this, the function of the enzyme that blocks the conversion of lanosterol to ergosterol is inhibited. Ergosterol is a sterol which occurs in the fungi. It is a vital component of the fungal cell membranes. Without it, the fungi are unable to survive. The disturbance in ergosterol production results in holes forming in the cell membrane, and this causes their eventual destruction.
Dosage and Administration
Forcan (Fluconazole) tablets each contain 50mg of the main active ingredient. The dosage will be adjusted to suit your individual treatment requirements. Doctors often instruct adult females treating vaginal candidiasis to take 150mg (which is given as a single dose). Systemic candidiasis may require a higher strength dose and a longer period of treatment. Patients are often directed to continue treatment until told to stop by their doctor. The same is true for coccidiodomycosis and other conditions. Therefore, it is essential to follow the instructions of your doctor.
Side effects
Patients using Forcan (Fluconazole) might suffer from side effects, such as:
Vertigo
Vomiting
Loose stools
Taste sensation changes
Discomfort affecting the stomach
Your doctor should be notified of all side effects that you experience. Although most of the commonly occurring side effects are less serious, severe reactions may occur in some cases. You will need to immediately contact your doctor or attend the hospital if you suffer from skin blisters, poor appetite, a severe lack of energy or any other severe reactions not mentioned here.
Precautions
Liver problems have been known to occur in some patients treated with this medicine. Patients who need to take it for an extended period of time will be ordered to have blood tests conducted so that your doctor can check the functioning of your liver.
Patients who are affected by or who have suffered from any diseases affecting the kidneys or liver should inform their doctor of this prior to beginning treatment.
Seek immediate emergency medical attention if you suffer an allergic reaction. Symptoms to watch for, which may be indicative of a reaction, include skin rashes, hives, swelling of the face or limbs, trouble breathing, and trouble swallowing.
Always use Forcan (Fluconazole) as you have been prescribed by your doctor. Never self-medicate or change your dosage without first consulting your doctor. The correct dosage can vary depending on your health, medical history, and the severity of the condition being treated.
This medication may not be safe for all patients. Before you begin using it always disclose the following to your doctor:
If you are pregnant or breastfeeding.
If you suffer from any allergies.
If you suffer from any other health conditions or illnesses.
If you are using any other medicine (including all non-prescription).
If you are using any supplements, vitamins, or herbal products of any kind.