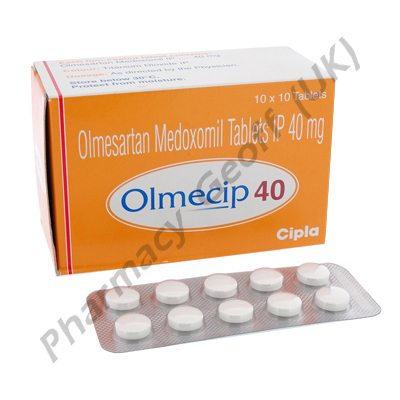 Our price: £6.37
Olmesartan 40mg
Olmesartan Uses
Olmesartan (Olmecip) can help treat hypertension (high blood pressure). Olmesartan is an angiotensin II receptor antagonists. Olmesartan works by reducing the narrowing of blood vessels that is responsible for the hypertension.
Olmesartan Precautions
Olmesartan must not be used if you a pregnant or trying to become pregnant. Olmesartan is classified as FDA pregnancy category D. Do not take this drug if there is even a possibility that you could be allergic to it. Alcohol can intensify the effect of Olmesartan and present serious side effects. Try not to take potassium supplements. Have your blood pressure checked at regular intervals to determine how effective the treatment with Olmesartan is. Anyone with a history of liver disease, kidney disease, dehydration, or congestive heart failure should not take Olmesartan.
Olmesartan Usage and Dosage
Your doctor will advise you on the best olmesartan dosage. This will be dependant on a number of issues including the extent of hypertension and your medical history.
Olmesartan Side Effects
The most common reported side effect of Olmesartan is dizziness. Should this dizziness continue to worsen or become troublesome to you, you should consult your doctor.
Severe side effects to be wary of a signs of allergic reaction. This may include difficulty breathing, tightness in the chest or swelling of facial features. Chest pain, swallowing difficulty, and muscle pain and cramps are also possible.