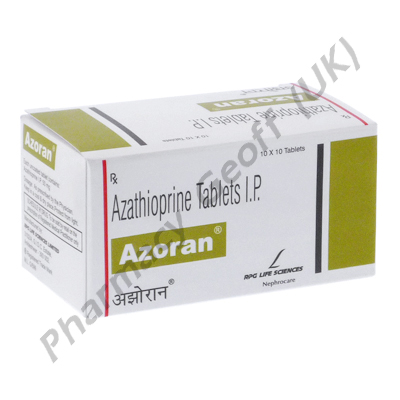 Our price: £6.70
| | |
| --- | --- |
| Brand Name: | Azoran |
| Generic Name: | Azathioprine |
| Form: | Tablets |
| Manufacturer: | RPG Life Sciences |
What is Azoran?
Azoran (Azathioprine) is an immunosuppressant used to treat rheumatoid arthritis. Sometimes the body's immune system will react excessively, not recognize the body and attack healthy tissues around the joints. Azathioprine will decrease the activity in the body's immune system to help prevent it from attacking the joints.
How is Azoran used?
The dosage will depend on the patient's condition and their reaction to the medication, contact a doctor for the correct dosage. Do not discontinue the treatment if there are no signs of improvement immediately as the full effects of the medication may not be felt until after 8 weeks of treatment. The drug is used to control rheumatoid arthritis but cannot be used as a cure for the condition.
Adverse effects
Azoran (Azathioprine) may cause side effects such as:
Upset stomach
Nausea
Diarrhea
Loss of appetite
Hair loss
Warnings
As Azoran (Azathioprine) decreases the activity of the immune system, your doctor may prescribe additional medication to help fight the risk of infection.
Immediately proceed to your nearest emergency department if you suffer an allergic reaction. Symptoms usually associated with such a reaction include difficulty breathing or swallowing, chest tightness, swelling, skin rashes, and hives.
Azoran (Azathioprine) is not always suitable for all patients. Always consult your health care provider prior to using this medication if you are pregnant, breastfeeding, trying to conceive, using any other medication (prescription or non-prescription), using any herbal products or supplements, or if you have any allergies or other health problems.
The correct dosage and prescription commonly depend on the patient and the condition being treated. Do not adjust your dosage without the approval of your health care provider. This product is only for use as prescribed and instructed.