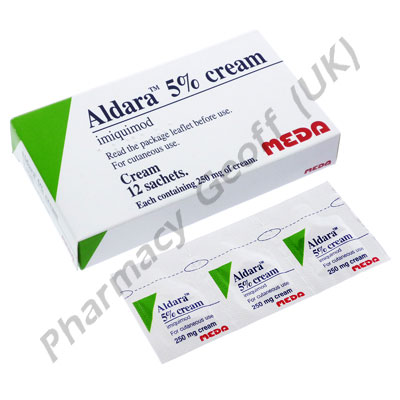 Our price: £75.29
Aldara Cream
Aldara Cream (Imiquimod) is a topical cream that activates immune response in the body. Its is most commonly prescribed to treat solar keratosis, basal cell carcinoma (skin cancer) and external genital or perianal warts. Many people like the ability to use a cream instead of an oral product for various medical needs. Aldara Cream should only be used by those that have a healthy immune system. It works along with the immune system to help fight various conditions.
What is Aldara Cream Used for?
Aldara cream is commonly used when someone has warts around the genitals or the anus. It is also used to apply on isolated areas of the skin when a person has skin cancer that isnít likely to spread easily to other parts of the body. This type of skin cancer is most common in older people who are fair skinned due to excessive exposure to the sun. Another use is for Actinic Keratoses (solar keratosis) which is rough patches of skin. This is also a type of condition mainly to occur for older individuals due to lots of UV exposure. It may also be used in cases of basal cell carcinoma (skin cancer).
Aldara Cream Dosage & Administration
Make sure you use Aldara Cream only as prescribed. Donít use it more than your doctor has recommended. Use gloves or make sure the hands are clean before applying. Wash the hands well after you have applied the cream. Donít cover the area where the cream has been applied. Do not apply the cream to any areas of cuts, open sores, or infections.
Use the cream for the duration of time your doctor has told you to. Donít stop using it just because you feel better or you see signs of relief. If you stop applying Aldara Cream too soon, then the symptoms you were treating could return. It shouldnít be applied more than once per day.
Aldara CreamaSide Effects & Precautions
The use of Aldara Cream isnít recommended for children or youths. The body can build up a tolerance for it. If you have used the product or something similar in the past, it may not work again in the future. Your doctor needs to make sure that your immune system is healthy before prescribing this product. Individuals that are HIV positive shouldnít use it.
Avoid getting the cream in your eyes, nostrils, or on the lips. The skin can become sensitive to sunlight, including UV rays from tanning beds. Limit such exposure while using Aldara Cream. It isnít recommended to use this product if you are attempting to get pregnant, you are pregnant, or you are breastfeeding. There isnít conclusive data to determine if there will be any risk to the fetus or the baby.
There are some possible side effects that can occur while using Aldara Cream. They may include:
Bruising easily
Changes in skin color where applied
Fatigue
Joint pain
Hair loss around area where applied
Itching
If inflammation of the area where you apply the cream occurs, make sure you tell your doctor right away. You may have an allergic reaction.