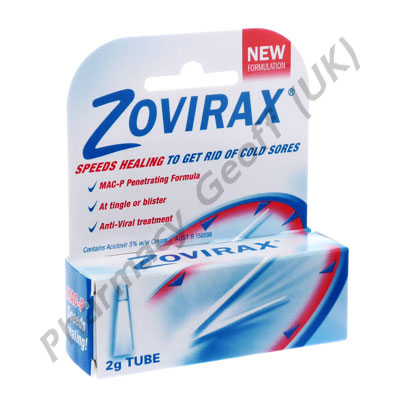 Our price: £22.44
Zovirax Cream
With the use of Zovirax Cream (Aciclovir Cream) is possible to reduce the time that you see cold sores or fever blisters on your face. They can be hard to hide and you donít want to risk spreading them to others. Plus, they can be very painful and they are often itchy but donít mess with them. This medicine can help them to clear up in less time and stop them from turning into a huge outbreak for you.
Zovirax is only effective though if you use it properly. Up to 5 applications are necessary per day with them being applied at intervals of every 3 or 4 hours. Make sure you wash your hands before and after applying. Wash the affected area gently with soap and water and then dry it before you apply the cream. A thin amount is all you need and you want to gently rub it into the affected area.
Talk to your doctor if you continue to get such outbreaks on a regular basis. The use of Zovirax Cream wonít offer you any kind of prevention against future outbreaks. This medicine may not interact well with other products so make sure you share with your doctor anything else you take on a daily basis. It isnít encouraged for women who are pregnant or nursing to use it because it isnít known if it can be harmful to a baby or a fetus.
It is possible that the area around the location where you apply Zovirax Cream may become cracked and dried out. The lips can also become very dry but these side effects are usually very mild and they arenít going to linger.
This product contains 2gm of Zovirax Cream in a tube. A 2gm Zovirax Cream Pump is also available.