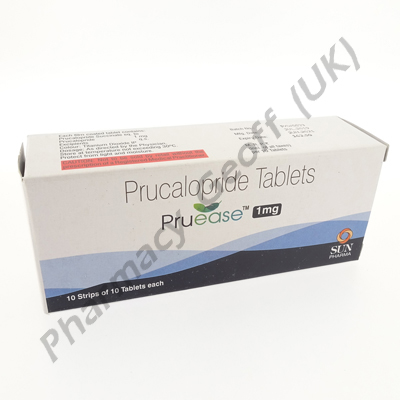 Our price: £34.00
Pruease (Prucalopride) - 1mg (10 x 10 Tablets)
Uses
Pruease (Prucalopride) is a laxative drug that is used as a symptomatic treatment of chronic constipation in those patients for whom other laxatives have not provided a sufficient effect in eliminating the symptoms.
Pruease (Prucalopride) belongs to class of a selective, high-affinity agonist of 5HT4-serotonin receptors, which most likely explains its effect on intestinal motility.
Dosage and Administration
Always follow your doctor`s instructions when using Pruease (Prucalopride) to get the safest and most effective results from treatment. Typically, Pruease (Prucalopride) is used in a dose of 2 tablets (2 mg) once a day. Patients over 65 begin with a dose of 1 mg 1 time per day, if necessary, increase the dose to 2 mg 1 time per day.
The tablet must be swallowed whole, washed down with a glass of water, do not chew, crumble or break.
The missed dose should be taken as soon as possible. It is advisable to skip the missed dose if it is already time for your next scheduled dose. Do not use extra medicine to make up for the missed dose.
Side effects
The use of Pruease (Prucalopride) may cause side effects in some patients including:
Dizziness
Drowsiness
Headache
Heartbeat
Nausea, vomiting,
Gastric pain, diarrhea, gastric discomfort
Weakness
Contact your doctor immediately if you experience any serious or worrying symptoms.
Precautions
The drug Pruease (Prucalopride) is not recommended for use during pregnancy. During the period of treatment with prucaloprid, women capable of childbearing should use adequate methods of contraception.
Pruease (Prucalopride) is excreted in breast milk, but when used in therapeutic doses, the drug is unlikely to affect newborns / infants.
Studies of the effect of prucalopride on the ability to drive a car and moving machinery have not been conducted. In some cases, the use of the drug Pruease (Prucalopride) was associated with the development of dizziness and weakness, especially in the early days of treatment, which may affect the ability to drive a car and moving mechanisms.