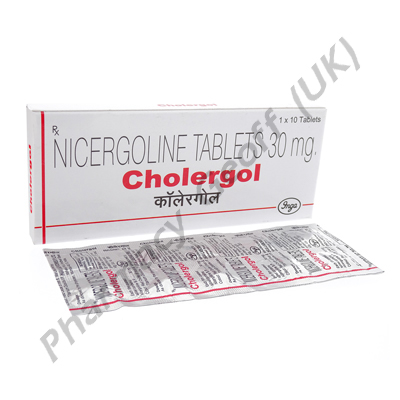 Our price: £16.90
| | |
| --- | --- |
| Brand Name: | Cholergol |
| Generic Name: | Nicergoline |
| Form: | Tablets |
| Manufacturer: | Inga |
What is Cholergol?
Cholergol is typically prescribed to treat the symptoms of senile dementia. The medication widens blood vessels to increase the flow of blood in the brain so that more oxygen and glucose can be transported and utilized by the brain cells. This is thought to improve brain function, aiding memory and reducing confusion. Your doctor may prescribe this medication to treat other unlisted conditions.
How is Cholergol used?
Cholergol should always be used exactly as prescribed by your health care provider. The typical regimen is one tablet, taken orally, once each day. It may be taken with or without food, but should be washed down with a full glass of water. Never crush, dissolve, or split the tablets to prevent the loss of its effects. It is also advisable to take your dosage at the same time(s) each day to maximize its effects.
Keep in mind that your particular dosage will be based on your symptoms, health condition, and response to previous treatments. It is also important to attend regular check-ups with your health care provider to monitor your progress and make any necessary changes to your treatment during the course of treatment. Always follow these instructions to ensure the correct application of the medication.
Adverse effects
Some patients may experience side effects while using Cholergol. These may range from mild to severe and should be disclosed to your health care provider as soon as they appear. Some can require a change in your treatment or medical assistance. These symptoms can include:
Upset stomach
Nausea
Diarrhea
Vomiting
Constipation
Hot flushes or skin flushing
Increased perspiration
Jaundice (Yellowing of the skin or eyes)
Dizziness
A change in appetite
Changes in mood or behavior
Irregular heartbeat
Hypotension (Low blood pressure)
Warnings
Tell your health care provider if you have decreased liver or kidney function before using Cholergol. This could cause complications that lead to serious health problems.
Immediately proceed to your nearest emergency department if you suffer an allergic reaction. Symptoms usually associated with such a reaction include difficulty breathing or swallowing, chest tightness, swelling, skin rashes, and hives.
Cholergol is not always suitable for all patients. Always consult your health care provider prior to using this medication if you are pregnant, breastfeeding, trying to conceive, using any other medication (prescription or non-prescription), using any herbal products or supplements, or if you have any allergies or other health problems.
The correct dosage and prescription commonly depend on the patient and the condition being treated. Do not adjust your dosage without the approval of your health care provider. This product is only for use as prescribed and instructed.