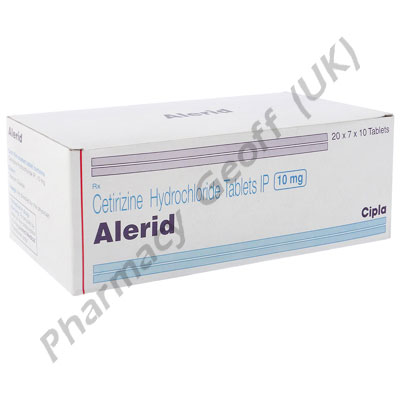 Our price: £3.82
Cetirizine
Cetirizine and Allergies
Cetirizine (Alerid) is a form of medication that can offer some relief from a type of seasonal allergy called hay fever. Some individuals have a hard time with pollen in the air, dust, or other forms of things around them such as mold. It may help with allergies around pets too. Some of the symptoms that this medication can assist with are eyes that are swollen and itchy, sneezing, and itching in the throat.
It is important to understand that Cetirizine canít prevent someone from getting hives associated with an allergy. Yet it can be prescribed to help with clearing them up. This medication is a type of histamine. This medication is often given with a product to help with reducing itching and discomfort. It may be a prescription medication or an over the counter one depending on the severity of the problem.
Cetirizine Dosage
There are various forms of this medication offered. They include tablets, chewable tablets, and a liquid. The medication should be taken once per day during the hay fever season, even when the person is feeling better. It should be taken at the same time every day if possible to help increase the benefits that it offers. The dose may vary based on the situation and it is important to follow the instructions from the doctor.
Cetirizine is typically able to offer relief from hives and hay fever symptoms within 3 days. However, for some people it may require up to 6 weeks of use to get through the allergy season. For the most part this medication is safe to use but some people have had an allergy to it. Any signs such as drooling, wheezing, or trouble breathing should be a reason to seek immediate medical help.
Cetirizine Precautions
Some people find that the use of this medication makes them very drowsy. As a result it is best not to drive a car or operate any machinery until you know how it is going to affect you. It is best to avoid consuming any forms of alcohol while taking this type of medication.
Cetirizine Side Effects
There have been some various side effects associated with the use of this medicine. They include fatigue, dry mouth, vomiting, diarrhea, headaches, and insomnia. These types of side effects are usually mild and will subside within a couple of days of using Cetirizine.