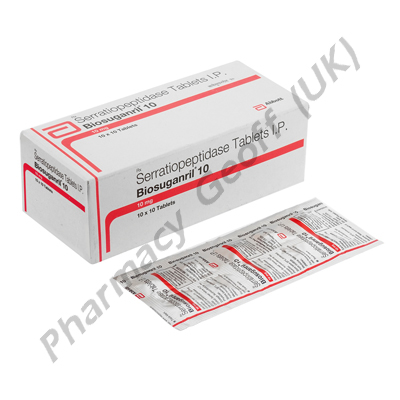 Our price: £4.90
| | |
| --- | --- |
| Brand Name: | Biosuganril 10 |
| Generic Name: | Serratiopeptidase |
| Form: | Tablets |
| Manufacturer: | Piramal Healthcare Ltd. |
What is Biosuganril 10?
Biosuganril containing the active ingredient serratiopeptidase is a naturally occurring enzyme. It works by reducing inflammation and pain associated with conditions such as arthritis, sinusitis, bronchitis and carpal tunnel syndrome. It can be used as a natural antibiotic to treat bacterial infections, particularly those linked to the respiratory system. Some people may also use it after surgeries to reduce swelling of the tissues.
How is Biosuganril 10 used?
Biosuganril is usually taken 3 times per day or as directed by a doctor. The tablets should be taken with a meal along with plenty of fluids. Contact a doctor for the correct dosage and length of treatment as it will depend on the patient's condition and their response to the therapy.
Adverse effects
Biosuganril is generally very well tolerated with no side effects in short term use. It is not advised to use the medication if you have a bleeding disorder or are scheduled for surgery within two weeks.
Warnings
Immediately proceed to your nearest emergency department if you suffer an allergic reaction. Symptoms usually associated with such a reaction include difficulty breathing or swallowing, chest tightness, swelling, skin rashes, and hives.
Biosuganril 10 is not always suitable for all patients. Always consult your health care provider prior to using this medication if you are pregnant, breastfeeding, trying to conceive, using any other medication (prescription or non-prescription), using any herbal products or supplements, or if you have any allergies or other health problems.
The correct dosage and prescription commonly depend on the patient and the condition being treated. Do not adjust your dosage without the approval of your health care provider. This product is only for use as prescribed and instructed.