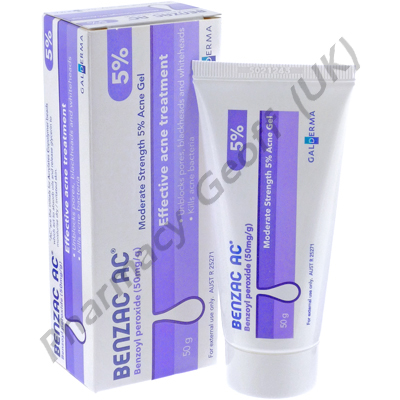 Our price: £23.50
| | |
| --- | --- |
| Brand Name: | Benzac AC Gel |
| Generic Name: | Benzoyl Peroxide |
| Form: | Gel |
| Manufacturer: | Galderma Ltd. |
What is Benzac AC Gel?
Benzac AC Gel is used by patients in the treatment of acne. The medication has 3 main actions, it can kill bacteria, reduce inflammation and help unplug blocked pores. The active ingredient benzoyl peroxide is considered a keratolytic type of medication with antibacterial and drying effects to help the top layer of the skin cells break down and shed.
How is Benzac AC Gel used?
Benzac AC Gel should only be applied topically as directed by a doctor, usually 1 to 2 times per day. Contact a doctor for the correct dosage as it will depend on the patient's condition and their response to the therapy. Before starting the treatment, wash your hands and the affected area with water and mild soap and gently dry the area. Apply a thin layer of the gel to the affected area and gently massage it in until it disappears. The full effects of the gel may not be felt until after 4 to 6 weeks, do not discontinue the treatment thinking it is not working.
Adverse effects
When using Benzac AC Gel, the patient may come across unwanted side effects such as:
Warmth or tingling feeling
Dizziness
Stinging, burning, itching or redness at application site
Dry or peeling skin
Contact a doctor immediately should side effects persist or worsen.
Warnings
Immediately proceed to your nearest emergency department if you suffer an allergic reaction. Symptoms usually associated with such a reaction include difficulty breathing or swallowing, chest tightness, swelling, skin rashes, and hives.
Benzac AC Gel is not always suitable for all patients. Always consult your health care provider prior to using this medication if you are pregnant, breastfeeding, trying to conceive, using any other medication (prescription or non-prescription), using any herbal products or supplements, or if you have any allergies or other health problems.
The correct dosage and prescription commonly depend on the patient and the condition being treated. Do not adjust your dosage without the approval of your health care provider. This product is only for use as prescribed and instructed.