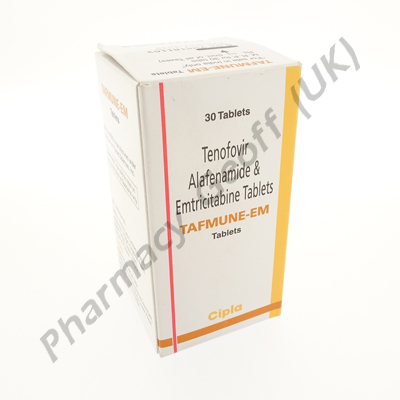 Our price: £48.00
Тafmune-EM (Emtricitabine 200 mg / Tenofovir Alafenamide 25 mg)
Uses
Тafmune-EM is a modern drug for treating HIV in adult patients in combination with other antiretroviral drugs. One Tafmune-EM tablet contains the active ingredients Emtricitabine 200 mg and Tenofovir Alafenamide 25 mg. Тafmune-EM stops HIV replication and reduces viral load.
Dosage and administration
Treatment with Тafmune-EM (Emtricitabine, Tenofovir Alafenamide) can be prescribed by an infectious disease doctor. Always follow your doctor`s instructions when using Тafmune-EM to get the safest and most effective results from treatment.
The recommended dosage is 1 tablet once a day. Take it with meals daily (without chewing), drink plenty of water.
If the patient skips taking the drug, then the next dose should be taken as soon as possible. Time between doses should be at least 4 hours.
Side effects
The use of Тafmune-EM (Emtricitabine, Tenofovir Alafenamide) may cause side effects in some patients including:
nausea
diarrhea
neutropenia
allergic reaction
hyperglycemia
hypertriglyceridemia
hypophosphatemia
unusual dreams
insomnia
headache
dizziness
abdominal pain
swelling
flatulence
Contact your doctor immediately if you experience any serious or worrying symptoms.
Precautions
Using during pregnancy and lactation
Data of scientific research of pregnant women (from 300 to 1000 pregnancy outcomes) indicate the absence of malformations or toxic effects on the fetus/newborn that would be associated with taking emtricitabine or tenofovir. Thus, if necessary, the possibility of using a combination of tenofovir + emtricitabine during pregnancy can be considered.
Studies have shown that emtricitabine and tenofovir are excreted in breast milk. Data on the effects of emtricitabine and tenofovir on newborns / children are insufficient. Therefore, the combination of tenofovir + emtricitabine is contraindicated during lactation.
In general, women infected with HIV are not recommended to breast-feed in order to prevent transmission of HIV to the baby.
Children
Due to insufficient data on the safety and efficacy of the use of this medicinal product in this age group, it is not recommended for children (under 18 years of age).