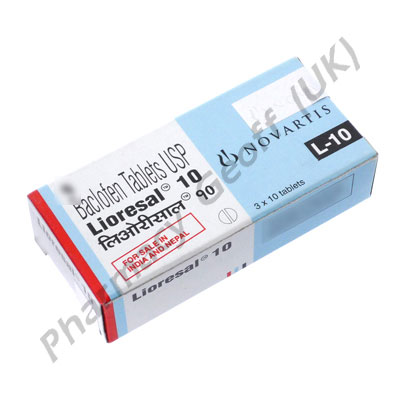 Our price: £8.15
Lioresal (Baclofen)
Lioresal Usage
Lioresal (Baclofen) is an antispastic agent as well as a muscle relaxer. Lioresal (Baclofen) is often prescribed to combat the muscle symptoms found in multiple sclerosis. Some of these symptoms involve muscle stiffness, spasms, and pain. This is one of the purposes Lioresal (Baclofen) is used for but there may be more.
Precautions
Your thought pattern or reaction time may be affected when using Lioresal (Baclofen). Therefore it is recommended that you do not participate in any activity that could become dangerous under these conditions. You should not consume alcohol when taking Lioresal (Baclofen). When you engage in prolonged usage with Lioresal (Baclofen) it is possible that you once you cease taking it that you could suffer hallucinations and seizures. Therefore, never cease using Lioresal (Baclofen) after prolonged use without the approval of your medical provider. Often times you will have to be weaned off Lioresal (Baclofen) slowly.
Obviously, you do not want to consume Lioresal (Baclofen) if you are allergic to it. As a matter of fact, you should inform your medical provider of any allergies you may have with any medications before taking Lioresal (Baclofen). You should also let your doctor know if you have blood clots or stroke history, history of seizure disorder or epilepsy, or kidney disease. Depending on your medical history your doctor may have to adjust your dose.
In addition, your unborn child may be harmed if you consume Lioresal (Baclofen). Therefore if you are considering becoming pregnant or are already pregnant, you should let your medical provider know about it.
It should also be known that Lioresal (Baclofen) should not be administered to children below the age of 12.
Lioresal Usage and Dosage
It is recommended that you take all medication as directed by your doctor. You can consume Lioresal (Baclofen) without or with food. The dosage information is as follows:
Oral: 5mg by mouth every 8 hours for a period of 3 days followed up by 10mg by mouth every 8 hours for 3 days and then 15mg and 20mg using the same progress.
Maintenance dose: 40-80mg in a 24 hour period
4 doses are taken when 80mg per day dosage is directed
Lioresal (Baclofen) Side Effects
There are side effects that are due to allergic reactions that could call for emergency treatment. If at anytime you experience throat, lips, tongue or face swelling, hive or any breathing disorder seek emergency treatment at once. You want to consult your medical provider immediately if you experience convulsions, hallucinations, confusion or a heartbeat that appears to be uneven.
Some of the side effects that are not quite as serious would be:
Frequent urination
Sudden constipation or nausea
Problems with sleeping
Headaches
Weakness, dizziness, worn out feeling, or drowsiness
If you experience any strange side effects consult your medical provider for a follow up on your condition.