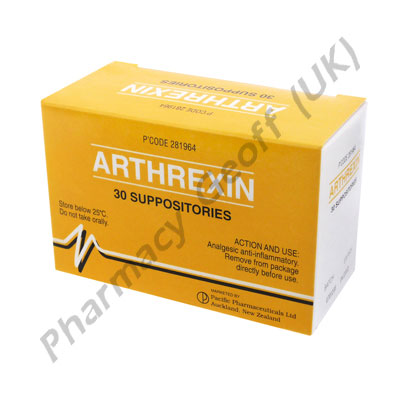 Our price: £17.41
Indomethacin Suppositories
The use of Indomethacin Suppositories can be a way to reduce the pain and swelling of the joints cased by a variety of types of arthritis. The swelling tends to make the condition more painful. By reducing the overall swelling, then the pain is less likely to prevent someone from taking part in daily activities they normally would. Sometimes, this medicine is also prescribed for those that have swelling around the heart.
This type of medication is classified as NSAID. It is important that the suppository is carefully inserted into the rectum. It should be cold and hard rather than soft and at room temperature. Moisten the suppository with water before inserting. By lying on your left side with your right knee bent, you will be able to easily insert it.
For the best results, continue to lie down for at least 10 minutes after inserting Indomethacin Suppositories. You donít want to have a bowel movement for at least 1 hour after inserting. The dose will vary based on the weight of the individual. It should never be more than 200 mg per day.
For those with chronic arthritis or swelling around the heart, the use of Indomethacin Suppositories may be needed daily. It can take up to a month of use before the full benefits are experienced by the patient. For other patients, the use of this medicine is only as needed when they have a flare up with arthritis related swelling. By using this medicine as soon as pain and inflammation start, the medicine can work best.
There are various side effects that can be experienced when using Indomethacin Suppositories. They include dizziness, fatigue, and upset stomach. The use of antacids can help to reduce side effects associated with heartburn. Talk to your doctor if you experience any pain in the rectum, blood in your stools, or you are having more bowel movements than usual.