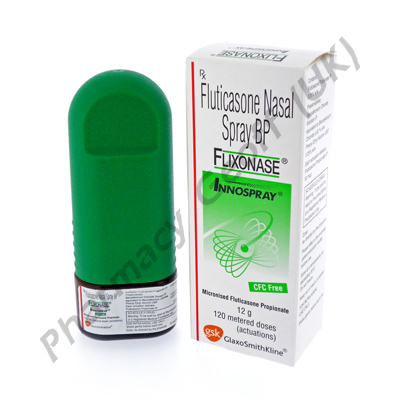 Our price: £18.90
| | |
| --- | --- |
| Brand Name: | Flixonase Nasal Spray |
| Generic Name: | Fluticasone Propionate IP |
| Form: | Spray |
| Manufacturer: | GlaxoSmithKline |
What is Flixonase Nasal Spray?
Flixonase Nasal Spray contains the active ingredient fluticasone propionate and is considered a corticosteroid. It works by reducing inflammation in the nasal passage when in contact with allergens such as pet fur, dust mites or pollen by preventing the immune system from releasing certain natural substances. It is used to prevent and relieve seasonal and perennial allergic rhinitis symptoms such as sneezing, runny nose, stuffy nose or itchy nose.
How is Flixonase Nasal Spray used?
The Flixonase Nasal Spray is usually sprayed in each nostril 1 to 2 times per day. Contact a doctor for the correct dosage as it will depend on the condition being treated and the patient's response to the treatment. Before the initial dose or if the spray has not been used in over 5 days, the device will need to be primed before use. To prime the bottle simply point the nozzle away from the face and apply 4 test sprays. To apply to nasal, close 1 nostril with a finger and pump the spray while inhaling with the other nostril. Try not to sneeze or blow your nose for at least 15 minutes after administering the spray.
Adverse effects
Patients using Flixonase Nasal Spray may encounter unwanted side effects such as:
Dizziness
Headaches
Nosebleeds
Vomiting
Dry nose
Nausea
Contact a doctor immediately should side effects persist or encounter more serious side effects such as:
Flu like symptoms
Severe or ongoing nosebleeds
Slow healing wounds
White patches or sores in nose or throat
Vision
Warnings
Immediately proceed to your nearest emergency department if you suffer an allergic reaction. Symptoms usually associated with such a reaction include difficulty breathing or swallowing, chest tightness, swelling, skin rashes, and hives.
Flixonase Nasal Spray is not always suitable for all patients. Always consult your health care provider prior to using this medication if you are pregnant, breastfeeding, trying to conceive, using any other medication (prescription or non-prescription), using any herbal products or supplements, or if you have any allergies or other health problems.
The correct dosage and prescription commonly depend on the patient and the condition being treated. Do not adjust your dosage without the approval of your health care provider. This product is only for use as prescribed and instructed.