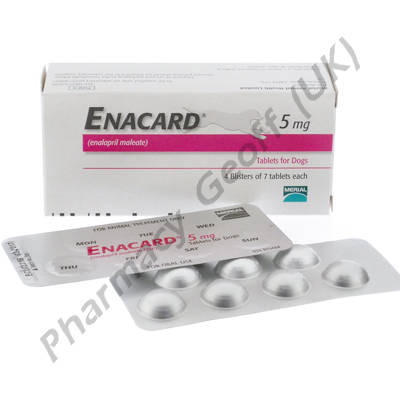 Our price: £20.90
| | |
| --- | --- |
| Brand Name: | Enacard |
| Generic Name: | Enalapril Maleate |
| Form: | Tablets |
| Manufacturer: | Merial |
What is Enacard?
Enacard 5mg contains enalapril maleate, an angiotensin converting enzyme (ACE) inhibitor. It is indicated in treat dogs with mild, moderate, or severe heart failure.
How is Enacard used?
Enacard dosages are based on the body weight of the dog being treated. A dosage of 0.5 mg/kg per day is usually used as a starting point. If this does not result in a significant clinical improvement, the dosage may be increased to 1.0mg/kg.
Furosemide and digoxin may also be prescribed to increase the effectiveness of enalapril.
Warnings
Make sure that Enacard is only given to dogs. It is not designed to be given to other animals and should never be taken by humans.
Enalapril may not be safe for use in pregnant dogs.
When used with a diuretic, there is a risk of renal problems occurring.