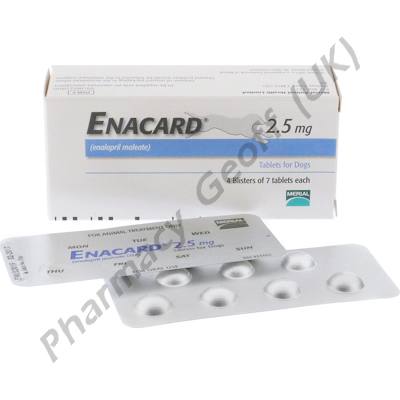 Our price: £17.90
| | |
| --- | --- |
| Brand Name: | Enacard |
| Generic Name: | Enalapril Maleate |
| Form: | Tablets |
| Manufacturer: | Merial |
What is Enacard?
Enacard is a generic brand of enalapril maleate for dogs. It is used in the treatment of mild, moderate, or severe heart failure in dogs. It is classified as an angiotensin converting enzyme (ACE) inhibitor.
How is Enacard used?
The starting dosage will depend on the weight of the dog - usually around 0.5 mg/kg per day. This could be increased by the vet to 1.0mg/kg if there is no significant improvement two weeks after starting treatment.
Enacard is sometimes used as part of a combination therapy alongside furosemide and digoxin.
Warnings
Enalapril should only be used for pregnant dogs if advised by your vet. Make sure they know if your dog is pregnant before starting treatment.
Enacard is not for humans. It is a pet-only medicine. Always keep Enalapril out of the reach of children. If swallowed by a human, contact a doctor immediately.
Diuretics can increase the risk of renal problems.