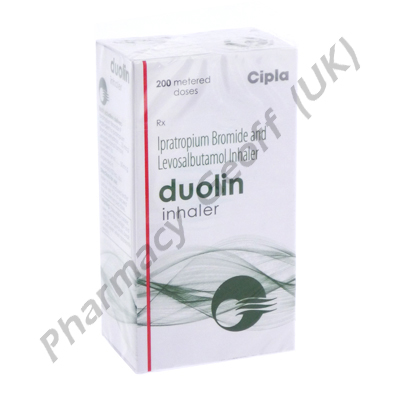 Our price: £11.90
| | | |
| --- | --- | --- |
| Main Use | Active Ingredient | Marketed Name |
| Asthma | Ipratropium Bromide, Levosalbutamol | Duolin Inhaler |
Uses
Duolin Inhaler (Ipratropium Bromide/Levosalbutamol) is produced using 2 ingredients, which act together as bronchodilators to improve the breathing ability in patients affected by breathing disorders like asthma, COPD (chronic obstructive pulmonary disease) and other conditions affecting the airways.
Ipratropium bromide is a type of anticholinergic (parasympatholytic) medicine which has antimuscarinic properties, due to it functioning as an acetylcholine antagonist. When inhaled, it begins to work within the lungs and targets the muscarinic receptors that occur there. By affecting these receptors, it prevents a neurotransmitter known as acetylcholine from acting on them, which in turn facilitates the opening up of the airways, leading to a reduction in obstruction.
This makes it easier for the patient to breathe. Levosalbutamol is said to work in a similar way to salbutamol. It affects certain receptors in the smooth muscles of the airways, which has a relaxing effect on them. In cases where one bronchodilator does not effectively control symptoms, doctors may recommend the use of a medicine such as this one so that the combination of bronchodilators can better manage the condition.
Dosage and Administration
Duolin Inhaler (Ipratropium Bromide/Levosalbutamol) needs to be used in compliance with the instructions that your doctor gives you. It is provided inside an inhaler, which has enough medicine for 200 metered doses. The dosage that doctors prescribe often varies slightly from patient to patient depending on numerous factors. Before use, make sure that the cover is removed from the mouthpiece.
Shake it thoroughly prior to each administration. To administer it, hold it straight with your thumb on the base and 1 to 2 fingers on the canister. Exhale through the mouth and insert it into your mouth. Press on the canister and inhale simultaneously, ensuring that you breathe in deeply. After taking the inhaler out of the mouth you can hold your breath for up to 10 seconds. Patients whose doctor has prescribed 2 doses should wait for at least one minute before taking the next spray.
Side effects
Use of Duolin Inhaler (Ipratropium Bromide/Levosalbutamol) to treat breathing difficulties could result in side effects, such as:
Anxiety
Constipation
An irritated throat
Dryness in the mouth
Tremors of the muscles
It is essential to keep your doctor informed of your situation, and any side effects that are noticed should be reported to your doctor immediately. Although not all side effects are severe in nature, some are. You must immediately visit the hospital or consult your doctor if you experience unexplained wheezing, bladder pain which is severe in nature, serious eye pain or any other severe reactions which occur here.
Precautions
Ensure that you are fully aware of how to use the inhaler. Ask your doctor if you are unsure.
You may need to prime the inhaler before the first use, and before each use if it has not been sprayed for in excess of a week.
Seek immediate emergency medical attention if you suffer an allergic reaction. Symptoms to watch for, which may be indicative of a reaction, include skin rashes, hives, swelling of the face or limbs, trouble breathing, and trouble swallowing.
Always use Duolin Inhaler (Ipratropium Bromide/Levosalbutamol) as you have been prescribed by your doctor. Never self-medicate or change your dosage without first consulting your doctor. The correct dosage can vary depending on your health, medical history, and the severity of the condition being treated.
This medication may not be safe for all patients. Before you begin using it always disclose the following to your doctor:
If you are pregnant or breastfeeding.
If you suffer from any allergies.
If you suffer from any other health conditions or illnesses.
If you are using any other medicine (including all non-prescription).
If you are using any supplements, vitamins, or herbal products of any kind.