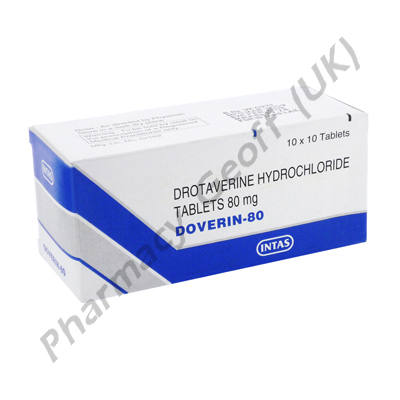 Our price: £3.95
| | |
| --- | --- |
| Brand Name: | Doverin-80 |
| Generic Name: | Drotaverine Hydrochloride |
| Form: | Tablets |
| Manufacturer: | Intas Pharmaceuticals Ltd. |
What is Doverin-80?
Doverin works by inhibiting phosphodiesterase in the body with no anticholinergic effects. The active ingredient drotaverine belongs to a class of medications called antispasmodics. The medication is generally used to treat pain and dysfunction caused by smooth muscle spasms. It is mainly prescribed for the treatment of intestinal biliary and renal colics, irritable bowel syndrome and uterine spasms.
How is Doverin-80 used?
Doverin should only be used as directed by a doctor, usually 3 times per day. The medication can be taken with or without food but should be taken with plenty of water. Contact a doctor for the correct dosage and length of treatment as it will depend on the patient's condition and their response to the therapy.
Adverse effects
Doverin may cause unwanted side effects such as:
Flushing
Dizziness or lightheadedness
Constipation
Fainting
Headaches
Nausea
Vomiting
Contact a doctor immediately should side effects persist or worsen.
Warnings
Immediately proceed to your nearest emergency department if you suffer an allergic reaction. Symptoms usually associated with such a reaction include difficulty breathing or swallowing, chest tightness, swelling, skin rashes, and hives.
Doverin-80 is not always suitable for all patients. Always consult your health care provider prior to using this medication if you are pregnant, breastfeeding, trying to conceive, using any other medication (prescription or non-prescription), using any herbal products or supplements, or if you have any allergies or other health problems.
The correct dosage and prescription commonly depend on the patient and the condition being treated. Do not adjust your dosage without the approval of your health care provider. This product is only for use as prescribed and instructed.