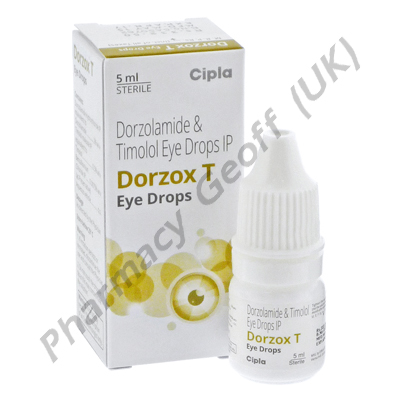 Our price: £10.50
| | | |
| --- | --- | --- |
| Main Use | Active Ingredient | Marketed Name |
| Glaucoma | Dorzolamide, Timolol | Dorzox-T Eye Drops |
Uses
Dorzox-T Eye Drops (Dorzolamide/Timolol) are indicated for the treatment of ocular hypertension (high pressure in the eye) and glaucoma. These eye drops contain two active ingredients, allowing patients to enjoy the combined benefits of two medicines in a single solution. Dorzolamide is a type of medicine referred to as a topical carbonic anhydrase inhibitor, and the other ingredient (timolol) is a beta adrenergic receptor blocking agent.
These eye drops are used as an anti-glaucoma agent, and each of the active ingredients function by decreasing the secretion of aqueous humor. As excess production or a reduction in drainage of this fluid can lead to intraocular pressure, reducing its secretion leads to a lowering of pressure in the eye, thereby helping to lower the risk of damage to the eyes.
Dosage and Administration
If you are affected by eye conditions, and your doctor recommends using Dorzox-T Eye Drops (Dorzolamide/Timolol) to treat your condition, a dosage schedule will be prescribed for you by your doctor. Patients who are unsure of how to properly apply the drops to the eyes should ask their doctor. Generally, adults are told to apply one drop into the eye or eyes that need to be treated, twice per day. Never apply more than the prescribed amount of eye drops.
Side effects
Treatment of glaucoma or any other eye condition with Dorzox-T Eye Drops (Dorzolamide/Timolol) may cause some side effects, such as:
Tearing
Sore throat
Drooping of the eyelid
Strange taste in the mouth
A burning or stinging sensation in the eye
If you notice any side effects while treating your eye condition, inform your doctor. Serious reactions may occur in some cases. Cease use of the eye drops and seek immediate medical attention if you notice inflammation affecting the eyelids, light sensitivity, crusting of the eyes, weight gain, redness of the eyes or any other side effects which have not been listed here.
Precautions
Patients who wear contact lenses should ask their doctor about whether or not they can be safely worn during treatment with these eye drops.
If you drive, it is important to note that these eye drops may cause blurred vision.
Seek immediate emergency medical attention if you suffer an allergic reaction. Symptoms to watch for, which may be indicative of a reaction, include skin rashes, hives, swelling of the face or limbs, trouble breathing, and trouble swallowing.
Always use Dorzox-T Eye Drops (Dorzolamide/Timolol) as you have been prescribed by your doctor. Never self-medicate or change your dosage without first consulting your doctor. The correct dosage can vary depending on your health, medical history, and the severity of the condition being treated.
This medication may not be safe for all patients. Before you begin using it always disclose the following to your doctor:
If you are pregnant or breastfeeding.
If you suffer from any allergies.
If you suffer from any other health conditions or illnesses.
If you are using any other medicine (including all non-prescription).
If you are using any supplements, vitamins, or herbal products of any kind.