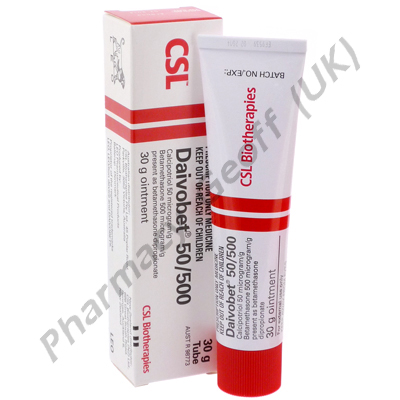 Our price: £53.90
| | |
| --- | --- |
| Brand Name: | Daivobet Ointment |
| Generic Name: | Calcipotriol/Betamethasone |
| Form: | Ointment |
| Manufacturer: | CSL |
What is Daivobet Ointment?
Daivobet Ointment is a topical immunosuppressant prescribed to treat mild to severe psoriasis. The medication operates by suppressing immune responses to reduce swelling, irritation, redness, and itchiness that are caused by allergens and associated with this condition. This helps to reduce the appearance of painful or flaky patches appearing on the skin. Your health care provider may prescribe it to be used along with other medications or to treat other unlisted conditions.
How is Daivobet Ointment used?
Daivobet Ointment should only be used as directed by a doctor, usually once per day for up to 4 weeks. Contact a doctor for the correct dosage and length of treatment as it will depend on the patient's condition and their response to the therapy. The maximum recommended dosage per week is 100 grams. Wash and dry your hands and the affected area prior to applying the ointment. Apply a thin layer of the medication to the affected area and gently massage it in until it disappears. Do not wrap the treated area with dressing or wear tight clothing unless specifically told to do so by a doctor.
Adverse effects
Daivobet Ointment may cause unwanted side effects such as:
Swollen hair follicles
Increased sensitivity to sunlight
Stretch marks
Skin thinning
Skin discoloration
Itching, burning, redness, pain or irritation at application site
Worsening of psoriasis conditions
Contact a doctor immediately should side effects persists or encounter more severe side effects such as:
Difficulty breathing or swallowing
Vision problems
Increased thirst or urination
Swollen ankles or feet
Extreme fatigue
Increased level of calcium in your blood
Warnings
Immediately proceed to your nearest emergency department if you suffer an allergic reaction. Symptoms usually associated with such a reaction include difficulty breathing or swallowing, chest tightness, swelling, skin rashes, and hives.
Daivobet Ointment is not always suitable for all patients. Always consult your health care provider prior to using this medication if you are pregnant, breastfeeding, trying to conceive, using any other medication (prescription or non-prescription), using any herbal products or supplements, or if you have any allergies or other health problems.
The correct dosage and prescription commonly depend on the patient and the condition being treated. Do not adjust your dosage without the approval of your health care provider. This product is only for use as prescribed and instructed.