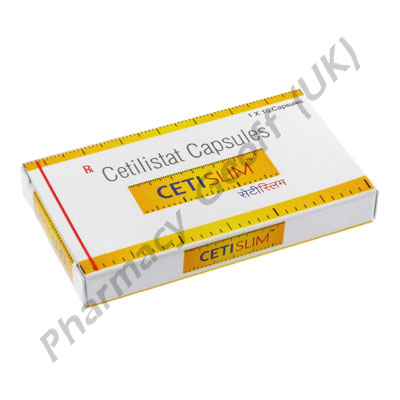 Our price: £14.23
Cetislim (Cetilistat)
What is Cetislim
Cetislim, also known as Cetilstat, is a weight loss medicine may be prescribed for those that are significantly overweight. It works by blocking fat so it isnít digested or absorbed into the body. It is classified as an Lipase Inhibitor. It works with the digestive system to block an enzyme called Lipase that the body needs for fat to be digested. It is similar to Xenical (Orlistat) but is better tolerated by most people.
What is Cetislim Used for?
The goal of Cetislim is to offer a two way method of losing weight and getting healthier. First, it blocks the fat as mentioned above. Second, this method of weight loss is combined with a low calorie diet with many food restrictions. The idea is to also prevent the body from taking in more foods that could be turned into fat. By giving the body food it can use for fuel a person has more energy and it boosts metabolism.
In addition to using the medication and the diet, a person needs to develop better overall lifestyle habits. This includes eating right, portion control, and daily exercise. A customized plan of action can be developed between the patient and the doctor.
Cetislim Dosage and How to Take Cetilistat
Cetislim capsules are offered in 60 mg strength. The dose is to take one capsule with each meal. Donít skip meals and donít take more of the medication than prescribed. Taking Cetislim with food can help to block the fat from what you eat from being absorbed into the body. Make sure you work with your doctor to ensure the right foods are eaten and you are taking this medication as you should.
Cetilistat Side Effects
There are some possible side effects that may develop while using Cetilistat. They include nasal congestion and cold like symptoms. Many patients feel like they have to use the bathroom often and they have loose stools. The urge to use the bathroom may be an emergency type of situation with this medication.
Cetilistat Precautions and Warnings
Eating foods high in fat will increase the side effects mentioned above. Such a diet can also result in serious abdominal pain and indigestion. Make sure you only engage in physical activity your doctor says you are able to do. As your level of fitness increases and your weight decreases you can add more difficult physical activity to the mix.
Individuals with diabetes or heart problems may not be able to take this medication. Make sure you consult with your doctor about all of your health concerns. They also need to know any medications or herbal supplements you already take.