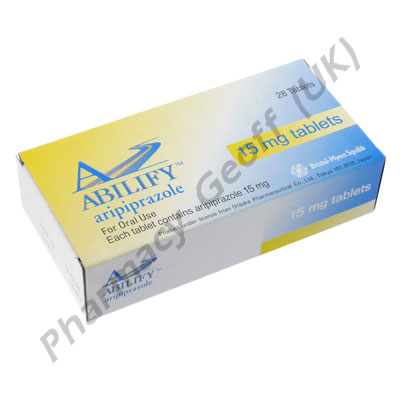 Our price: £86.87
Aripiprazole 15mg
Aripiprazole (Abilify 15mg) is an atypical antipsychotic medication that may be used along with antidepressants in cases of depression where antidepressants arenít enough on their own. Aripiprazole enhances the ability for the chemicals in the brain to be properly balanced.
Aripiprazole for Schizophrenia and Manic Depression
The most common uses of Aripiprazole is reducing the symptoms of schizophrenia and manic depression. It has also been used to effectively assist with the treatment of bipolar disorder. For these types of needs, it is recommended not to be used by anyone under the age of 10. Sometimes, Aripiprazole is prescribed for children as young as 6 who have issues with behaviors or that have various forms of autism.
Aripiprazole Dosing & Administration
It is very important to always follow the dosing instructions for Aripiprazole. The dose will be low at first to help identify the value and the possible side effects for the user. Aripiprazole is offered in 10 mg, 15 mg, and 30 mg. It is offered as both a liquid and as a tablet form. It can take several weeks of use before a person starts to feel better.
For the best results, Aripiprazole needs to be taken every day and at the same time daily. Skipping doses can reduce the value that it offers. Most people are able to take Aripiprazole on an empty stomach without problems. However, it can be taken with food if you experience any nausea. Aripiprazole isnít going to cure mental health issues so if you stop taking it they are going to return or the symptoms of them will get worse. Donít stop taking Aripiprazole without the approval of your doctor.
Side Effects & Precautions
If you consume alcohol often this isnít a good medicine for you to take. It will make you drowsy and it can also make your mental health symptoms worse. If you have struggles now or in the past with illegal drugs then Aripiprazole isnít recommended. Those with various health problems including high blood pressure, diabetes, or heart problems arenít a good candidate for it.
Individuals with dementia shouldnít take Aripiprazole as research indicates it could reduce the life expectancy. Individuals with a history of suicidal thoughts or attempts may be at a higher risk of experiencing such thoughts when they take Aripiprazole. It is important to understand this possible side effect and for monitoring and for help to be readily available if necessary.
Women may be able to take Aripiprazole during the early stages of pregnancy but not the last trimester. It shouldnít be taken by a woman that is breastfeeding either. There is a risk for the medicine to get passed to the infant through the milk.
Most people are able to take Aripiprazole without too many issues with side effects. The following may be experienced, but should be mild. They should also go away after a couple of weeks of use:
Constipation
Diarrhea
Dizziness
Headache
Heartburn
Increased Appetite
Joint Pain
Weight Gain